GOLD POCKET WATCHES: HISTORY & VALUATIONS
Value & Sell Your Gold Pocket Watch
A gold pocket watch would have been a prized possession, and like designer watches today was often selected to make a statement about its owner. The style of watch, including decoration and the type of gold used for the case, as well as how it was worn, would all add to the statement made by the pocket watch. Each of those in turn impacts the value of your pocket watch in 2022.
The Market for Gold Pocket Watches
Gold pocket watches generally command a premium over pocket watches made from other materials. Firstly, there is the intrinsic value of the metal itself, but in addition gold pocket watches were usually made as a statement piece, are of a high quality and have often had light use or have been kept to a very good standard. As such they are highly sought-after by collectors and there is an active market for them in 2022.
If you would like more information on the history of pocket watches please see the history at the end of this page. Mark Littler can also assist with valuation and sale of your gold pocket watch. Please use the form on this page to get in touch for a no obligation valuation and advice on selling your gold pocket watch and explore this page for the 6 things that impact the value of your watch.
For more information on your specific pocket watch please see our pages for:
What to look for in your pocket watch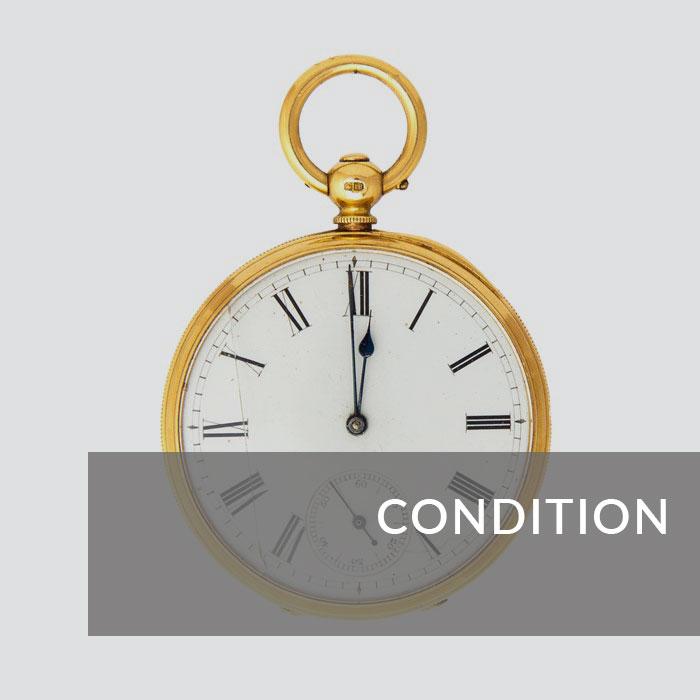 Condition/originality
The condition and originality of a watch has the greatest bearing on its value. What could outwardly appear to be a rare 17th century verge pocket watch, may have had a large proportion of its movement replaced or cannibalised over the years (replacement dial etc). These changes might only be known to a watchmaker or collector so a guarantee of originality will positively impact the value if you are looking to sell.
The outward condition of the watch is easier to assess yourself. Cracks to the dial, worn cases or erased presentation engravings can negatively impact the value of a pocket watch.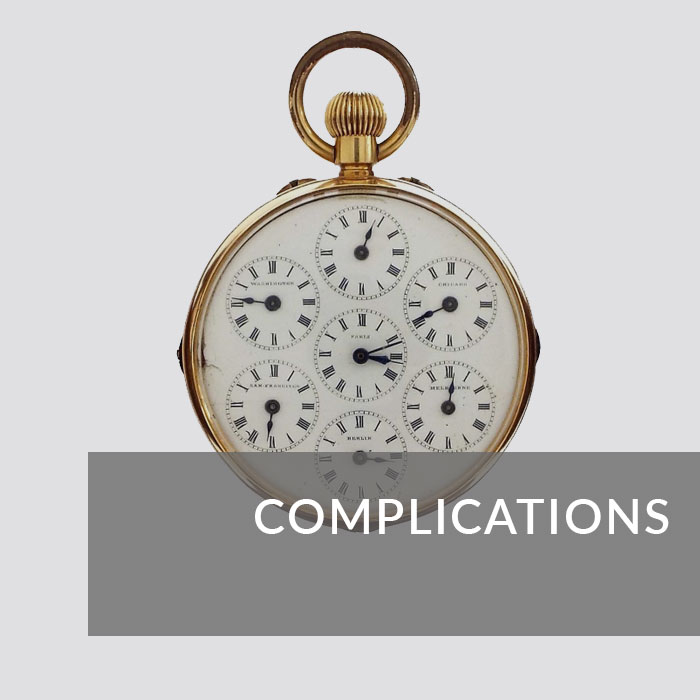 Complications
Very broadly speaking, the more complications the greater the value of the watch. Minute repeaters are some of the most sought-after complications as well as: tourbillon, split-seconds chronograph (or rattrapante), chronometers, perpetual calendar and phases of the moon, to name but a few.
If your watch has only the repeating complication then the repeating frequency (hour, quater, minute etc) will impact the value. With rarer repeating frequencies generally more sought after. Quarter repeaters are the most common. The mode of repeating (bell, gong, vibration) will also have an impact.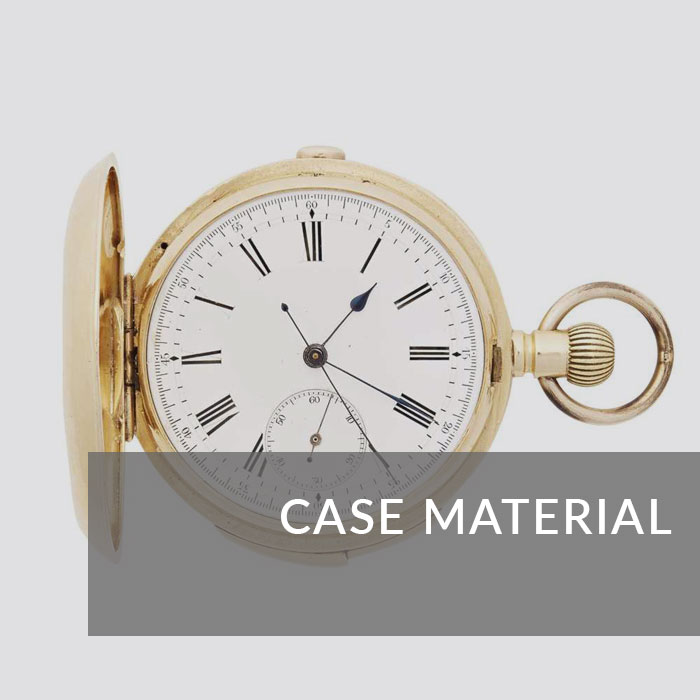 Case material
With the exception of watches with 'out of the ordinary' movements or features (chronometers etc) the case material can have a significant bearing on the value of the watch. Generally speaking 18ct gold pocket watches are more valuable than 9ct gold pocket watches, silver pocket watches and gold or silver plated pocket watches are worth less again.
The most obvious example of this can be seen with gold cased watches: three seemingly identical watches with identical Waltham movements could be several thousand pounds different in value depending on the case material, i.e. gold plated vs. 9ct gold vs. 18ct gold.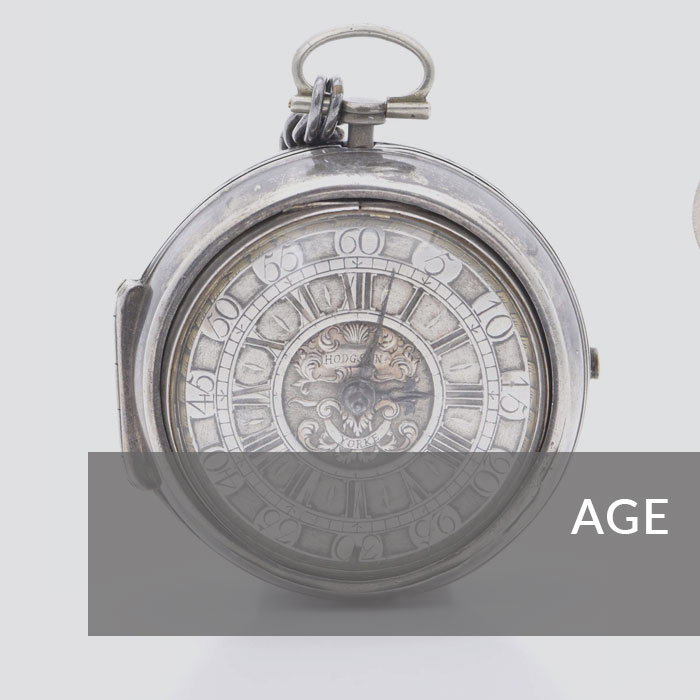 Age
The most expensive pocket watch ever sold at auction was only made in 1933. The price of the Vacheron Constantin Reference 57260 was not released, but it is fair to estimate that it is likely the most expensive pocket watch ever produced, and was only made in 2015.
As such the age of a watch does not necessarily invoke a high value. For example, pair cased silver verge watches from the reign of George III can be sold for as little as £100 at auction (condition dependant) yet an Edwardian minute repeater can easily sell for £1,000+.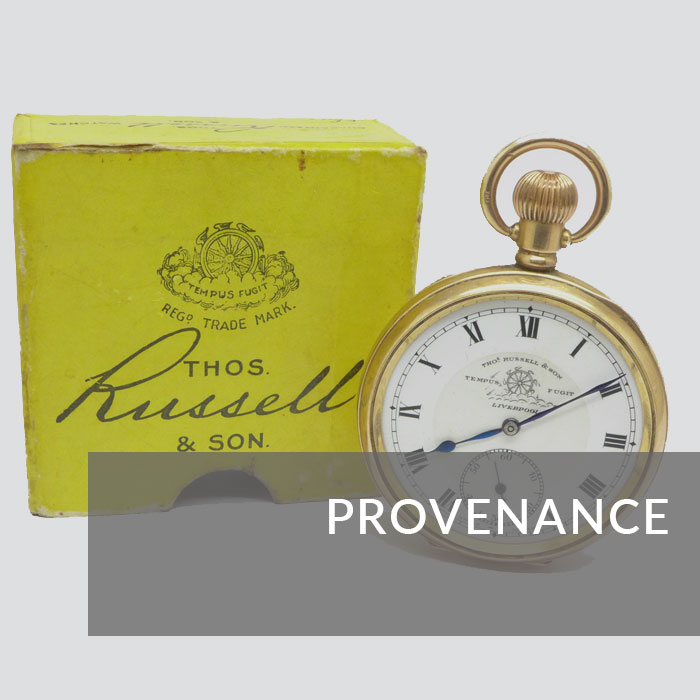 Provenance & certificates
Provenance can add a significant amount of value to a watch and sometimes the provenance will be of more value than the watch itself.
A good example of this would be a watch that could be proven to have been on the Titanic; the story attached to the watch is what would be valuable rather than the pocket watch itself.
The original chronometer certificates, receipts, boxes and paperwork can also add significant value to a watch when they are still present.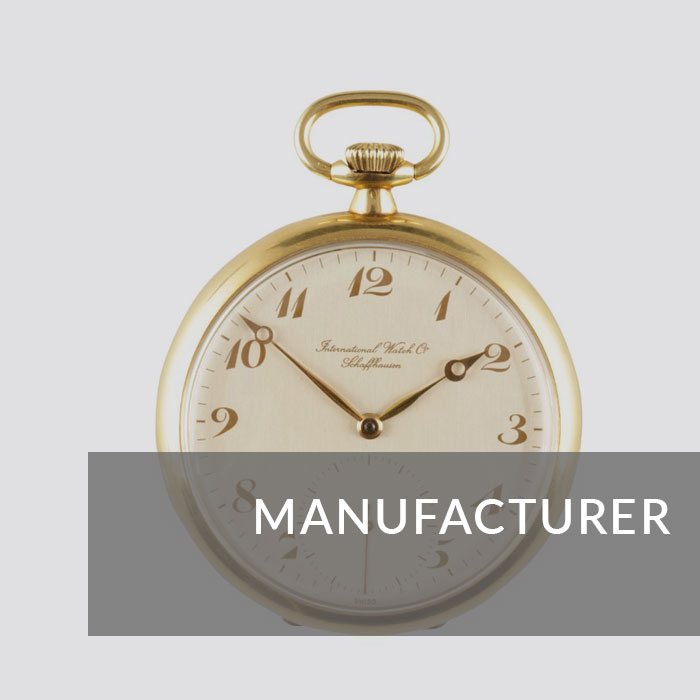 Manufacturer
In alphabetical order here is a list of some manufacturers that command a significant premium:
Audemars Piguet
Breguet
Harrison
IWC
Massey
Mudge
Omega
Patek Phillpe
Perrelet
Rolex
Tiffany
Tompion
Vacheron Constantin
Zenith
Sell Your Gold Pocket Watch
In order to provide you with an accurate valuation please provide as much of the below information as you can. Valuations are free and offers are sourced with no obligation.
Selling your gold pocket watch with Mark Littler Ltd.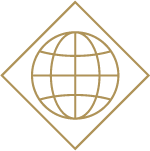 We contact our international network of customers for the best offers.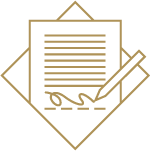 If you decide to proceed with an offer we issue you with a contract.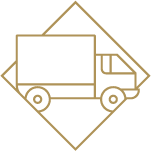 Send us your watch. We have a fully insured courier service available.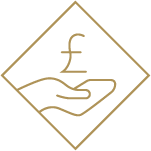 We complete the sale with the buyer and send your funds via BACS.
Auction or Private Sale?
If you are deciding on how to sell your gold pocket watch we can have a no obligation chat on the best options for you. We can either make a personal introduction to the best saleroom based on your location and item free of charge. Or we can look into collecting you some no obligation offers for a private sale, which could save you considerably in commission.
In a nutshell here are the main pros and cons of each option:
Auctions can provide an increased market exposure (when you choose the right saleroom) but their gross fees can reach as much as 50%, and the payout times can be drawn out.
Private sales leave you in control of the price, and can be completed quickly but there is no chance of 'buyers fever' driving up prices.
Mark Littler Ltd. are one of the only independent advisers in the antique industry. We offer trusted, independent advice to help you sell your gold pocket watch for the highest possible price.
The History of Gold Pocket Watches
The earliest watches date to the mid-1500s and are single-hand, drum shaped watches that would have been hung proudly about the neck as a statement of the owner's wealth and access to technological advancements. These early 'pocket-watches' were of the verge escapement style – and verge watches with a few improvements dominated the watch world for over 300 years.
Early watches had one hand and their accuracy may have varied by as much as 15 to 30minutes per day – an error that did not have too much impact until the development of rail and extensive sea travel, which required greater accuracy for safety and navigation.
Early decoration on pocket watches
The very first watches were not particularly decorated because the watch itself as a technical achievement was enough of a proclamation of wealth. As watches became more widespread decoration was added. This period of history was puritanical and watch decoration reflects that; early watches, often oval, appeared plain on the outside while bearing intricate engravings on the inner mechanisms.
Early decoration was mostly in the form of gilding to the brass work – a feature that also helped protect the watch from corrosion – and decorative engraving. Piercing of the case of the clock was also common as it added decoration and allowed the watch to be read while the case was closed. Hands remained relatively simple but did sometimes have raised pins that would allow the pocket watch to be read in the dark.
Decoration quickly evolved and the early seventeenth century produced some fantastically decorated watches in a variety of styles and shapes, all designed to be worn around the neck. Decoration followed the art of the time and thus many early watches had religious aspects. Cases in the shape of crosses and even skulls can be found from this period as well as beautiful paintings of saints and religious scenes that reflect popular artwork of the time. As well as gilding in precious metals, engraving, piercing, jewelling and enamel work were carried out by master jewellers, metalsmiths and artists.
Secondary Cases for pocket watches
As decoration of watch cases became more and more elaborate a second case became necessary to protect increasingly delicate filigree and enamel work. These cases were less elaborate but were still decorated with pique work, tortoiseshell and precious metals. The use of second cases, possibly alongside a change in tastes, eventually contributed to reduced decoration on the case of the watch itself as it was unseen.
From 1630 glass was fitted to watches often in the form of carved rock crystal which protected the dial and allowed the watch to be read without opening the case. This allowed personal watches to be stored in the pocket rather than around the neck, and hence from around 1640 watches became more akin to the pocket watches we recognise today.
The Seventeenth Century Pocket Watch
When the balance spring was introduced and a minute hand added, the dial's hour markers were represented with roman numerals and minute markers were shown in Arabic numbers in a slightly smaller font than the hour markers. Different dial styles were trialled but did not gain popularity; alternatives include turning disks with either the sun/moon or a small aperture that indicated the time and a complicated differential dial that allowed one hand to show both the hour and minutes. The style that was the most popular was the one that we still recognise today; with a distinctive longer minute hand and shorter hour hand.
The hands themselves became much more decorative during this time and glass was almost always used to cover the dial meaning that the time could no longer be told using touch. However, 'repeaters' were introduced in the late 1680s meaning that the issue of telling the time in the dark was already solved.
Eighteenth Century Verge Pocket Watches
Verge watches with balance springs dominated the pocket watch world from around 1700 until the mid-1800s, when the lever watch came to the forefront of personal watches. Watches of this period are decorated in a wide range of styles.
On the continent we see the introduction of the Châtelaine or 'charm watch.' These were large pendants from which hung several highly decorated items such as a signet, music box and winding key; the watch became one part of a greater presentation of wealth and status.
The later third of the 1700s saw the introduction of 4-colour gold, whereby gold of different shades (created by altering the alloys) was used to form patterns along with jewels and pearls. Fantastic examples of repoussé work can be found on cases from this period, as well as intricately pierced cases from the middle of the century, the latter being especially found in repeating watches.
Metal faces remained popular through the early 1700s and Champlevé dials are particularly fine examples of dial decoration from this period. In English pocket watches there is a simplification of case style during the later part of the 1700s as watches became more elegant. From 1720 we see the introduction of the white enamel dial and black numerals that would be largely recognisable as the style seen in modern watches.
The Lever Escapement in Pocket Watches
While the verge watch was perfectly adequate for personal use, the refinements, time and technical skill needed to make it accurate enough for precision use meant that it was eventually replaced by a more efficient model. Modern day mechanical watches use a detached lever escapement, a system that benefits from being accurate and robust enough for everyday use. The Swiss lever escapement is used in almost all modern watches having been refined in the 19th century, however the watch thought to be the oldest detached lever watch was created by an English watchmaker; Thomas Mudge.
Watchmakers in France were working on lever escapements around the same time as those in England and the creation of what we know today as the lever escapement can certainly be considered to have been developed and refined over a period by different watchmakers. However, a pocket watch by the English watchmaker Mudge is the oldest known watch to use a detached lever escapement. The watch was a gift to the then King George III and now resides in Windsor castle.
Whist much more accurate than verge escapement, the first lever watches were very difficult to make. Even Mudge felt the difficultly of creating the 'new' lever watch negated the benefits provided and he abandoned his work on the lever escapement to focus on maritime chronometers.
Nineteenth Century Pocket Watches
From the 1800s we see a real split in English versus European pocket watch style. English pocket watches were largely handmade and retained an elegant, simple style with roman numerals. Additionally, 1850 sees the introduction of compulsory hallmarks in England, which makes dating English watches much simpler after this period.
In Europe pocket watch styles were more ornate with painted decoration and Arabic numbers. Small, decorative pocket watches came into fashion; watches as rings or broaches that were not immediately obvious as watches. These pocket watches were often made in gold and decorated in coloured enamel, precious gems, semiprecious stones and half pearls.
Thin pocket watches gained popularity in Europe through the start of the nineteenth century thanks to improvements in the size of the fusee – or complete removal through other compensation. The use of gongs also allowed thinner repeaters, which remained popular. One of the most significant shifts we see between European and English watchmaking in the nineteenth century is the use of machine-made parts on the continent. As a result, watchmakers in France and Switzerland were able to produce watches more cheaply than those handmade in England. It can be argued that the refusal of English watchmakers to adapt to the desire for thinner, cheaper, machine-made watches was the start of the shift of watchmaking from England to France and eventually to Switzerland.
Crown Winding & Perpetual Movement
The start of the nineteenth century sees the introduction of keyless winding, first with pump winding (via a lever and sometimes a cover) and eventually by the mid-1800s with crown winding. At first the hands had to be set by pressing a separate button, but by 1860 that too was incorporated into the crown.
Somewhat counter-intuitively, self-winding pocket watches had been invented some 70 years prior in 1770 by Perrelet and developed from 1777-1780 by Breguet – who also introduced a just as mysteriously unpopular shockproof device for his watches. The early perpetual watches were not terribly popular, partly because the motion imparted when they were carried in the pocket was not sufficient for winding, and partly because they were not easily compatible with the fusee, which was still used particularly in England, until the late 1800s. In fact, self-winding did not gain popularity in watches until they were used in wrist watches in the early twentieth century.
Twentieth Century Pocket Watches
The early twentieth century was arguably the pinnacle of pocket watch making. Cumulating in the Henry Graves Super Complication in 1933, a pocket watch by Patek Phillippe with 24 complications. It remained the most complicated pocket watch for 50 years until Patek Phillippe broke their own record and is still the most expensive watch ever sold at auction – hammering for $24million in 2014.
The popularity of pocket watches was already in decline when Henry Graves commissioned his pocket watch; between 1920 and 1940 pocket watches lost significant ground to the convenience and compact size of wrist watches. Nevertheless, pocket watches are still in demand, as shown by the creation of the Vacheron Constantin Reference 57260 in 2015, which now holds the current record for the most complicated pocket watch ever, and while the price was undisclosed is almost certainly the most expensive watch ever sold.
Pocket watches, and escially gold pocket watches remain popular with collectors and watches with a story, rare complications or multiple complications are particularly sought-after by collectors.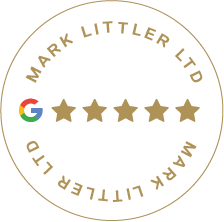 "I found Mark's details online after looking to sell a collectable bottle of whisky. I was going to use a well know auction site but Mark secured an offer higher than the highest estimation from any auction house, within days, even after the 10% commission was deducted. Communication was perfect; punctual, to the point and polite. Collection and delivery were taken care of by Mark and instruction was clear and easy to follow. Payment was received to my bank within days of posting the bottle. I can't recommend Mark enough; he runs a tight ship gets top end offers from his clients and delivers quickly."
Rod Fountain, via Google
"Mark conducted a high value sale transaction for me acting as broker. A complex process, clearly explained at each step of the way. Great communication and willing to go the extra mile when it mattered. Entirely trustworthy and highly recommended."
Mark Williams, via Google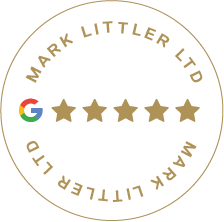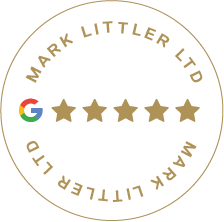 "Wow, what a refreshing change it was to meet Mark. He was the consummate professional with an approachable and warm personality who clearly had an in-depth knowledge of his subject which he used to give me a first-class service when I wanted to sell a whisky collection. For anyone who is considering any similar specialist whisky transactions I can certainly recommend him without reservation."
Duncan Chambers, via Google
Sell your gold Half Hunter pocket watch
In order to provide you with an accurate valuation please provide as much of the below information as you can. Valuations are free and offers are sourced with no obligation.