One of the largest whisky auctions in the UK, Whisky Auctioneer has announced a collaboration with whisky giant Glenfiddich to hold an exclusive auction featuring unique artwork by Simon Berger.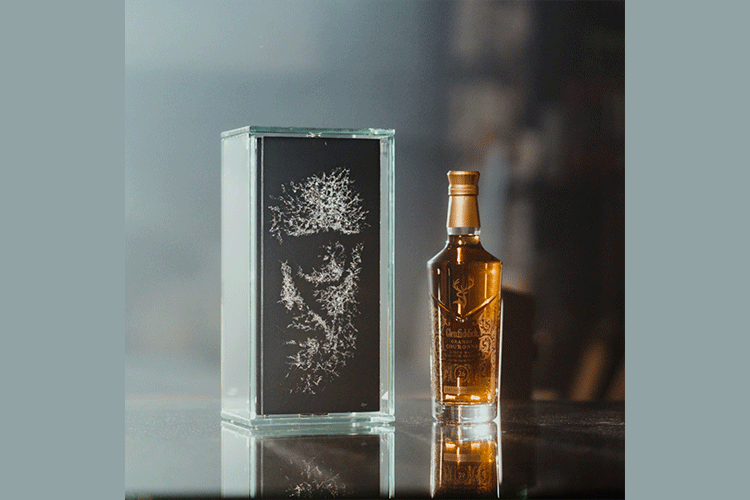 Glenfiddich has had an association with art since the 1960s after commissioning Modernist artist Hans Schleger to design their iconic triangular bottle shape. The distillery also runs an Artists in Residence programme, giving talented artists the chance to stay on site and create original pieces of art, including collaborating with each other. 
This latest venture into the art world sees Glenfiddich pair up with contemporary Swiss artist, Simon Berger, to create an exclusive release. Simon Berger creates portraits by meticulously and purposefully cracking and shattering glass.  
This collaboration sees the artwork paired with the Glenfiddich Grande Couronne, the latest in the Glenfiddich Grand Series. This whisky is a 26 year old expression that has been finished in a French Cognac cask. For this partnership, Berger has created five glass boxes to house the Grande Couronne, each featuring a portrait of someone who Berger believes conveys the emotions of the Glenfiddich brand.
The five editions of Grand Couronne will be auctioned at Whisky Auctioneer, one of the biggest whisky auction platforms in the UK, in a collaboration with Glenfiddich which Whisky Auctioneer say is "a privilege to come together once again with the industry pioneers to provide our audience of passionate and discerning whisky enthusiasts with a truly unique offering for their collections in this collaboration with Simon Berger".      
The auction began on Friday 24th September and will run until Monday 4th October 2021.
Do You Have Whisky For Valuation?