In a time of ever increasing age statements for single malt whisky, 50 years of maturation has become the flagship of old and rare expressions. From releases such as the Macallan 50 Year Old Red Collection, to the Glenlivet Book of Kells 50 Year Old from Gordon & Macphail, five decades has become that benchmark for distilleries in their endeavours for old and rare whisky. Not only is it a benchmark for those at the head of the whisky single malt market, but 50 year old age statements have almost become the symbolic signifier of a distillery repositioning itself as luxury and edging into the front of the market.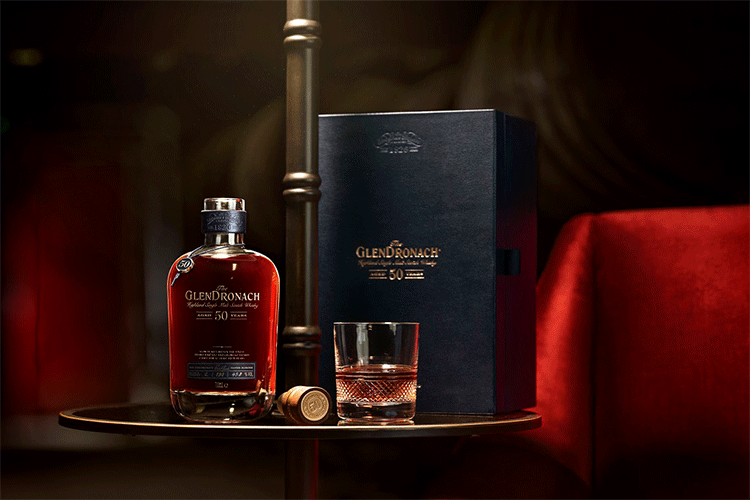 This is no more so true than for the Glendronach distillery. Glendronach have announced their oldest expression yet, the release of a 50 year old expression from the 1971 vintage set to be available from early 2022. This expression was matured in Spanish oak sherry casks and its maturation has been overseen by multiple generations of custodians. 
The release is due to be incredibly exclusive, with just 198 bottles available worldwide and they are expected to have a price tag of £20,000. The very first bottle of this release was donated to the Distillers 1 of 1 charity auction at Sotheby's in December 2021 where it achieved £40,000. In the auction, the bottle was accompanied by an exclusive tasting experience and visit to the Glendronach distillery.
Serge Valentin of WhiskyFun had the chance to taste the Glendronach 50 Year Old and his full tasting notes are above. He describes the Glendronach as 'fresh' with notes of coffee, orange cordial, eucalyptus, and chocolate among others. The 50 Year Old is given a score of 93 points, putting it firmly on the 'winners list'. To reach this monumental age statement and yet maintain such high tasting scores pays testament to the care given to the maturation process at the Glendronach distillery.   
The 1971 50 Year Old is a huge landmark in Glendronach's history and this release will likely be a highlight in their portfolio. It will be interesting to see where Glendronach goes from here.