Here at Mark Littler Ltd, we have previously speculated about whisky NFTs and their place, if they have one, in the whisky industry. In the past few months, NFT projects have begun to emerge in the industry, for a few different purposes: storage, provenance, fractionalising assets, and cask purchases to name a few. Whilst there is nothing to say an investor can't buy a whisky NFT, it is important to do the research to ensure that the token you are buying is secure, legitimate, and has the necessary details so that you can be confident in your purchase. In our opinion, many of the current forays into whisky NFTs are risky and the lack of direct legislation makes it difficult to buy with confidence. It is likely that, over time, whisky NFTs will be streamlined as more hit the market and their purpose will become clear. 
Here is every whisky NFT currently on the market… 
Koia 
Koia started in 2021 and recently launched its platform linking NFTs to whisky, as well as other collectible assets like watches and art. Koia focuses on fractionalisation, with each NFT representing fractions of assets. As an example, their first whisky-related asset drop is the Brora Triptych collection, currently valued at £30,000 ($37,000) and split up in 185 fractions priced at $200 each. 
Once purchased, NFT holders have voting rights and can vote for when the asset will be sold and at what price, at which point they will get their proportional proceeds. NFT holders can also trade their NFTs on marketplaces like Opensea, or in the future on Koia's own marketplace.
BlockBar
BlockBar was established in October 2021 as an online platform specifically dedicated to the sale of spirits and wine NFTs. Despite being only four months old, BlockBar has already hosted the sale of big name NFT projects, from brands such as Glenfiddich, Hennessey, and Dalmore, and it seems to be adding more all the time. BlockBar uses NFTs primarily in lieu of storage, as they store the physical asset until the digital token is traded and subsequently burnt. The bottles are stored in Singapore, but can be shipped anywhere once requested. If the owner of the token wants to sell the bottle, they can do so by selling the token on BlockBar's marketplace without having to move the bottle. 
BlockBar has already seen a number of successful sales from a variety of brands.
Glenfiddich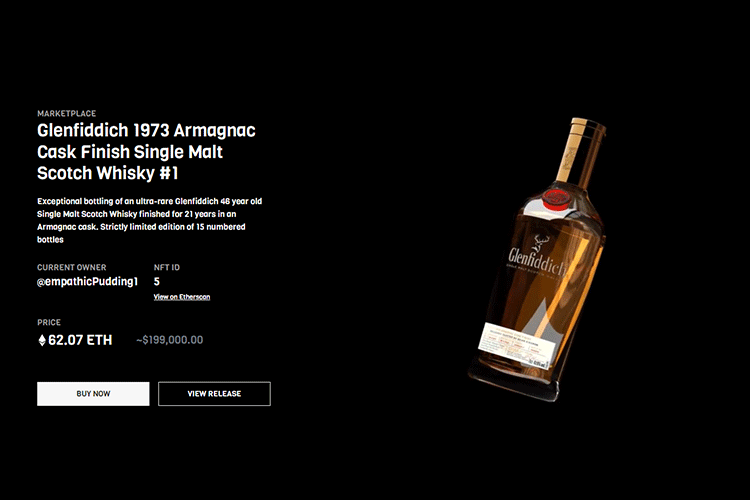 The first major whisky NFT project, and the first to be hosted on BlockBar, came from the Glenfiddich distillery. Glenfiddich has been venturing into alternative projects in recent months and has been utilising developments in technology to do so. This is no more so true than with the sale of fifteen 1973 46 Year Old Armagnac Cask Finish Single Malt whiskies via NFT.  Each token sold represents one of the fifteen bottles which are stored by BlockBar in Singapore. The token holders can at any point redeem the physical bottle at which point the NFT is burnt. All 15 bottles were sold for $18,000 USD, or approximately £13,118, and have currently changed hands a total of six times. The most recent sale of this bottle was for $17,967 USD, or £13,092, representing a loss of 0.18%.
Glenfiddich are due to launch a second release on BlockBar, this time for a 21 Year Old Chinese New Year Limited Edition. The tokens will be dropped on Tuesday 1st February, 2022.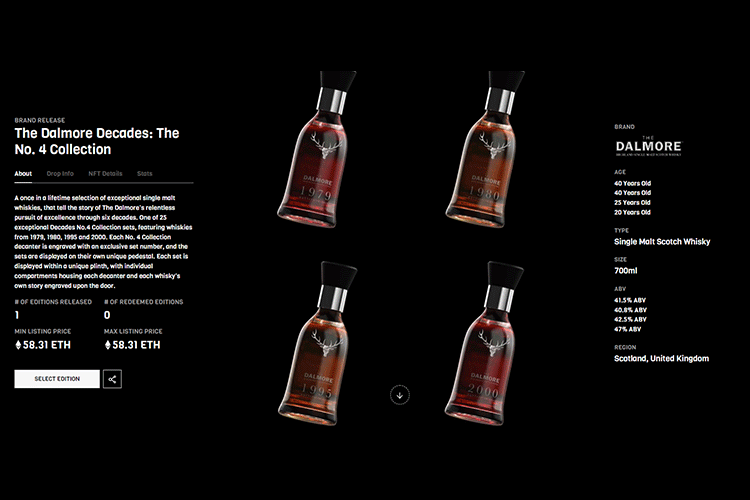 Dalmore is the second huge whisky name to host an NFT project on BlockBar. In December 2021, the Dalmore distillery released one set of their Decades: The No.4 collection. The collection is one of just twenty-five produced and contains whisky from 1979, 1980, 1995, and 2000, all bottled in 2020. The listing price was $137,000 USD, or £99,831, and it has not yet been resold or redeemed, although it is available on the marketplace.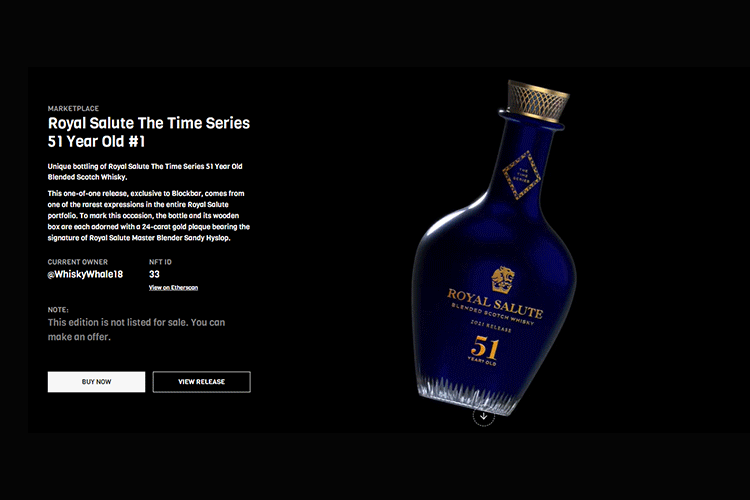 Royal Salute's first venture into whisky NFTs came in December 2021, when it released the Time Series 51 Year Old on BlockBar. This was a 1 of 1, exclusive release and its bottle and box are both embellished with a 24-carat gold plaque. Not only is the token representative of the physical asset, along with the bottle there are a number of 'additional benefits' that accompany the purchase. This includes a tasting experience at the distillery, an opportunity to meet a Royal Salute ambassador to explore the history of the brand, and a wooden gift box containing the Time Series booklet, glass, and 5cl sample of the whisky.  This 51 Year Old was sold for $35,000 USD, or £25,500, and has not yet been resold or redeemed. 
Interestingly, the Time Series 50 Year Old from Royal Salute was sold in a traditional auction at Sotheby's in the Distiller's 1 of 1 auction for £25,000. This whisky is the same bottle design and comes with a similar tasting experience, just one year younger.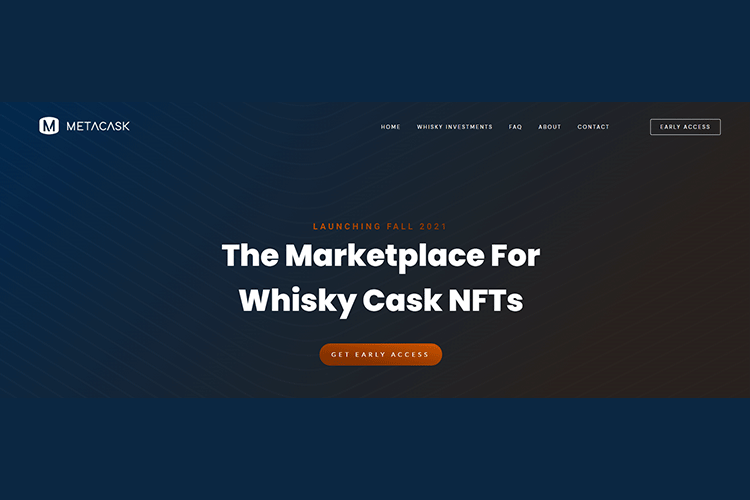 MetaCask is the brainchild of the managing director of VCL Vintners, and aims to bring cask sales into the NFT world. MetaCask is attempting to use NFTs to replace Delivery Orders when buying and selling casks, and launched their platform in October 2021. Despite originally planning to begin operations in the final quarter of 2021, MetaCask has not yet begun trading. This could perhaps be due to legal considerations that have been raised since NFTs first arrived in the whisky industry. 
However, MetaCask has been involved with an inaugural cask sale involving an NFT.  
Macallan 1991 Cask With Trevor Jones Artwork
In a partnership with NFT platform Origin Protocol, MetaCask sold a 1991 Macallan cask for $2.3 million in October 2021. Whilst the cask was sold traditionally, it was accompanied by an NFT for a piece of digital art entitled The Angel's Share by famous NFT artist, Trevor Jones. The original oil painting of the Macallan cask was tokenised as a digital scan in place of a verification photograph of the cask.  
Your eyes are not deceiving you, these images are pixelated, and this is the subject of the next Whisky NFT project. CryptoWhisky, hosted on OpenSea, sells NFTs for digital, pixelated images of iconic and well-loved whisky bottles. This is the only NFT project in whisky at the moment that doesn't relate to the physical asset of whisky bottles or casks, but rather is perhaps more associated with the digital art side of NFTs.  At the moment, these tokens aren't expensive as 0.01 ETH equates to approximately £20, and this project appears to be the endeavour of an individual rather than a business.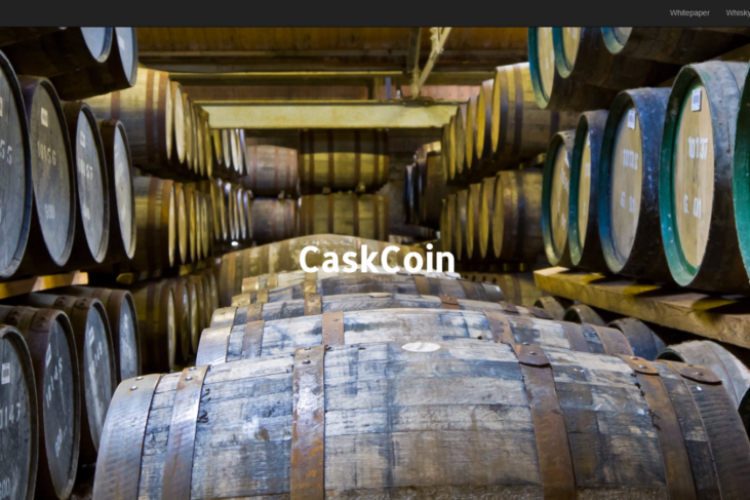 Likely the first whisky based NFT project, Cask Coin was established in 2018 – three years before the rush of NFT projects. Cask Coin is an asset backed cryptocurrency that exchanges tokens for old and rare whisky casks. However, from the information given by the company, ownership of the casks is not transferred and the token is merely representative of a cask. Initially, Cask Coin was not open to US residents due to legislation, however due to large US demand, the project has been suspended so that it can be reconfigured for an American market. The project hasn't been active on any social media or their website since 2018, but it could be revived at any time.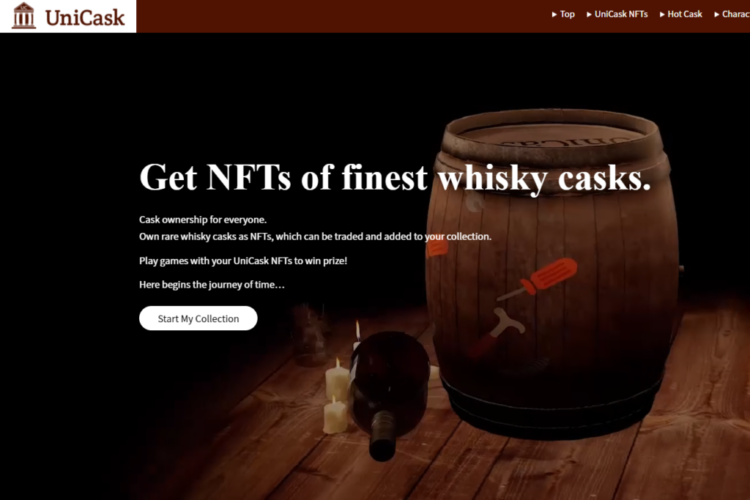 UniCask is a Japanese NFT project that aims to sell casks as a fractionalised asset. The project released its inaugural cask in December 2021, selling 100 tokens in a 1991 Springbank hogshead. Each token represents 1.08L of the cask, which will be bottled in 2041 and received by the owners of the tokens. Whilst this project would likely violate legislation in the UK, it is unclear how Japanese legislation and regulations affect this NFT. According to UniCask, the tokens for the Springbank 'Genesis' cask sold out immediately, and they have more tokens planned for 2022.