Non-fungible tokens (NFTs) are the newest development in financial technology and they are taking the world by storm. We speculated in our Bottle Investment Guide that digital investments and NFTs would enter the whisky market in a big way, and in the last few months, the whisky industry has seen NFTs begin to emerge. How useful is this technology, and should whisky be moving forward with it? 
What is an NFT?
A non-fungible token, or NFT, is a unique unit of data, stored on a blockchain, that allows the ownership of assets, digital or physical. 'Non-fungible' means that there is no equivalent unit of the same value. For example, cash money is fungible because you can exchange a £10 note for two £5 notes and still hold the same value. With a non-fungible token, this isn't possible as each token is for an asset of unique value.
NFTs were first devised for the ownership of digital artwork. As digital work can be copied and reuploaded many times on many different platforms, the original version of the artwork often went unknown or it was lost. NFTs allow a buyer to own the original piece of artwork, although this doesn't stop other people from using it on the internet. 
From artwork, NFTs then expanded into other online assets. For example, the first tweet made by Twitter CEO, Jack Dorsey, in 2006 was sold for $2.9m in March 2021. When purchased, the buyer received a digital certificate of the tweet which has been signed and verified by the creator. In this instance, the NFT acts as both the digital asset itself and the certificate of authenticity. In another example, in June 2021, an NFT for the source code of the World Wide Web was sold at Sotheby's for $5.4m. Of course, this doesn't stop the rest of the world from using the internet, but it does give the buyer the ownership of the original code as it was written, as an asset. In this instance, the NFT was signed and verified by its author via a letter in a README.md file written by Sir Tim Berners-Lee. 
In its simplest explanation, an NFT is designed to give ownership over something that wouldn't ordinarily be able to be 'owned'. 
On this basis, are NFTs useful in the whisky market? 
NFTs in Whisky – How Would They Be Used?
NFTs have begun to emerge in the whisky world, but they are already being used in a few different ways:
As provenance 
Fractionalising an asset 
In lieu of storage 
For extra purchase benefits 
As Provenance 
Using NFTs as provenance is perhaps the first reason that comes to mind when linking NFTs to whisky. Whilst many of the pre-existing examples of whisky NFTs in 2021 have come from the distilleries themselves, any third-party wanting to use NFTs to sell their whisky must be able to authenticate the bottle or cask. NFTs are hosted on blockchains, digital ledgers, which are incredibly secure as they use a proof of work protocol in community groups of servers to verify the chain. Blockchains create a trail of ownership that is audited by this group of servers, and timestamped. However, whilst this seems fool proof in the first instance, this does not guarantee the prevention of fraud.
NFTs are not regulated assets in the same way that stocks and bonds are, and as such there is no way of guaranteeing that the whisky sold via the NFT will be the whisky the buyer of the token takes ownership of. 
Furthermore, something that applies to all forms of whisky NFTs, is that the ownership of the NFT and the ownership of the asset itself are two different things. Usually, a Smart Contract is embedded into the NFT to set out the terms on which the token can be bought. The buyer must ensure that the ownership of the physical asset is tied to the token when purchasing. 
Fractionalising An Asset 
The second use for NFTs in whisky is fractionalising an asset. An example of this is UniCask, a Japanese company who has plans to release NFTs for shared ownership of whisky casks. The first NFT plans announced by the company, known as the Genesis cask, are for a 1991 Springbank hogshead that has a 56.4% ABV, and will yield 100 tokens. This NFT 'drop' will allow individuals to purchase a token for 1.08L of whisky, or 1/100th, from the Springbank cask which can then be claimed when the cask is bottled. The terms of the tokens state that the date of bottling will be December 2041, which would result in each token holder receiving 50 year old Springbank whisky. However, the terms also state that they reserve the right to bring that date forward if it becomes difficult to continue the ageing process, due to evaporation or any complications. It also then states that the quantity or strength of the alcohol after bottling cannot be guaranteed.
Whilst NFTs seem to provide a method of obtaining a piece of whisky that ordinarily may be out of reach, these terms leave many loopholes through which purchasers of the tokens may be left with something they did not necessarily sign up for. As this is such an unregulated concept, sellers are not held to misrepresentation legislation in the same way that ordinary retailers are, which could lead to misconceptions and huge losses for buyers. 
In addition to these risks of using NFTs to fractionalise an asset, a somewhat more serious issue has been raised. Some have speculated that, particularly with casks, selling whisky as a fractionalised asset via NFT is in violation of current financial legislation. This is because this could be considered a 'collective investment scheme' which must be authorised by the Financial Conduct Authority (FCA) prior to establishment, which these NFT projects have not been. Getting authorised by the FCA is an incredibly involved and lengthy process, and failure to do so is a criminal offence. Projects cannot be marketed to retail customers as investments, with the intention of receiving profits, regardless of whether the income is passive or active. Even assets that would not ordinarily be considered 'securities' would be subject to security legislation if wrapped in an investment contract. Whilst the legislation specific to whisky NFTs is threadbare at best, there is a precedent for the FCA and other regulatory bodies to conclude that these NFT projects are a breach of pre-existing legislation.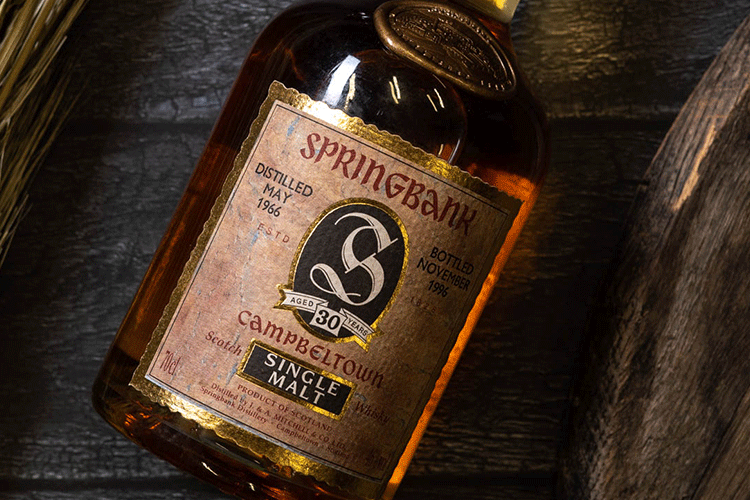 Storage
The third idea for using NFTs in whisky is, in effect, in lieu of storage. This is best seen with Glenfiddich's NFT drop for the 1973 46 Year Old Armagnac Cask Finish. In October 2021, Glenfiddich launched its first bottle NFT, partnering with BlockBar to launch 15 tokens. Each token acts as a digital receipt and authenticity certificate for a corresponding physical bottle of the 1973 whisky, which the purchaser will also own. BlockBar, a new platform specifically for luxury drinks NFTs, are responsible for storing the 15 bottles and then delivering them to the buyer on request. At this point of redeeming the bottle, the token is 'burnt' and the blockchain for that bottle is ended.
Alternatively, buyers can sell the token and the bottle without ever having seen the physical asset and the blockchain would continue. Whilst there is nothing technically wrong with this method of selling whisky, it aims to solve a problem that doesn't really exist.
There is little difference between this process and the already existing process of using bonded warehouse storage for bottles. Using NFTs in this way is far removed from their original design, as the ownership of physical assets such as whisky bottles is not difficult to grant or keep track of. Invoices and receipts have been used for centuries with few issues and the use of NFTs in this instance over complicates a system in an attempt to fix what wasn't broken; NFT has become a buzzword that allows sellers to increase prices.    
Purchase Extras
The final part of NFTs in whisky that has arisen, is the use of NFTs to sell 'purchase benefits' or additions alongside the whisky. In this area, the whisky industry has mistaken the phrase 'NFT' for 'voucher', and are using the tokens to sell distillery experiences or unique artwork. In November 2021, the Dalmore distillery announced its first NFT, also partnering with BlockBar. With the token came ownership of the Dalmore Decades No. 4 Collection as well as the opportunity to visit the distillery for a tasting of some of the rarest Dalmore whiskies and a luxury dinner. Dalmore aren't the only ones doing this. Of the five brand collaborations that BlockBar has done so far, four of them have extra distillery experiences alongside the spirit being sold; this is in addition to the countless other NFT whisky sales that aren't hosted on BlockBar, but that are doing the same thing, such as the Macallan 1991 cask sold by MetaCask for $2.33m that was accompanied by a token for a piece of abstract digital artwork by Trevor Jones.
There is nothing inherently wrong with selling benefit packages alongside rare and expensive whisky, but this has been done countless times before and doesn't need an NFT. The prime example of this is the Distillers 1 of 1 auction held by Sotheby's in December 2021. This auction saw high profile lots such as a Talisker Cask of Distinction 1978 which was paired with artwork  by Callum Innes as well as a VIP stay in Royal Deeside to visit the cask. This lot sold for £625,000 and was done so without any NFTs. There are many similar examples in the 1 of 1 auction, including a Royal Salute 50 Year Old. This is interesting as a 51 year old Royal Salute in the same decanter and with essentially the same visitor experience is being sold via NFT on the 21st December 2021. The 50 year old at a traditional auction sold for £25,000, so it will be interesting to see what the 51 year old achieves via an NFT.  
Selling Casks Via NFTs 
Not only are NFTs being used to sell whisky in the ways mentioned above, but some companies are beginning to offer casks via NFTs, it seems in lieu of a delivery order. Companies such as Metacask are suggesting that delivery orders could be replaced with NFTs as blockchain ledgers would track ownership securely. Whilst it is true that a blockchain ledger would create an irrefutable record of cask ownership, it is arguably once again trying to solve a problem that doesn't exist.
Due to the nature of bonded warehouses, storing assets that hold a lot of tax revenue for HMRC, they are incredibly diligent and also monitored to ensure that administrative processes are carried out correctly. Furthermore, casks are designed to be long term investments and don't often have the rapid turnover of owners that would also make a blockchain useful.   
Due to the need for delivery orders, an NFT blockchain is no more secure than a normal digital ledger, unless the issuer of the NFT is the warehouse; at the moment, this is not the case. If a cask broker issues an NFT for a cask, but it isn't acknowledged by the warehouse storing the cask, then the NFT becomes no more of a legal document than a certificate of ownership. If NFTs were to become useful in the whisky industry, they would have to be acknowledged by the industry as a whole, rather than on a localised level. This is so that a cask can be owned and sold across the industry without issue. 
The companies currently offering casks via NFTs have openly stated that an NFT is not a substitute for a delivery order, but insist that when burnt, the token can be exchanged for one. However, they are relying on the resale of the cask through their own NFT platform so that this does not have to happen. After all, if they can organise a delivery order with the warehouse when requested, why not do that from the offset? It has been suggested that a blockchain would allow HMRC to know who owns the casks should the broker go bust. However, it is the original transfer of ownership that HMRC would be concerned with so, again, this does not solve the issue.     
Metacask sold a 1991 cask of Macallan in October 2021 for $2.33m that was accompanied by a digital piece of artwork by NFT artist Trevor Jones. This was the first time NFTs had been linked to whisky, and it came to the whisky media immediately. It should be noted that the NFT in this instance was not for the Macallan cask, but rather solely for the digital artwork, 'The Angel's Share', that was created to serve as 'verification' of the cask. The company states that this artwork is a more exciting version of the photograph a new cask owner receives, and the cask itself was sold, without a delivery order, in a more traditional sense. Whilst this is the case for this first cask, the aim of the company is to sell casks via NFTs and they are due to be launched soon.
Will NFTs Survive In Whisky? 
It is unlikely that NFTs will continue in every variant that this article has discussed, but they may have their place in the industry in some capacity. Due to the lack of current legislation that specifically outlines whisky NFTs, it will likely take a pioneer to iron out the specifics of how tokens can be used and once it is successful, others will follow suit. We would predict that NFTs are most useful for the provenance aspect of whisky as they would provide an irrefutable chain of ownership for bottles. 
However, it asks the question… is it necessary? 
The whisky market has been buoyant and successful thus far without NFT sales. In terms of purchase benefits, storage, and casks, the processes are there to allow all of these things already. We've seen auctions offer distillery experiences, bottles can be stored in bond, and delivery orders transfer cask ownership with no issues. Whilst the concept of fractionalising an asset has its merits, keeping within the relevant legislation is so difficult at the moment that it is not worth the risk. Perhaps this is the area that will be developed further down the line when more guidance is available. 
The environmental cost of NFTs cannot be ignored either. The processes that make NFTs and blockchains so secure require a monumental amount of electricity that, in a time where events such as the Cop26 summit is taking place and climate change awareness is needing to be stressed, seems unsustainable; this is especially true when trying to solve problems that arguably don't exist. 
The world of NFTs is constantly evolving, and it is hard to predict where whisky will go with them after just a few months of their existence in the industry. Nonetheless, it will be interesting to see what will happen next.