Mark Littler Ltd have the pleasure of listing for sale an exclusive collection of bottles amassed by one collector over a number of years. These bottles include Scotch whisky, Japanese whisky, Cognacs, and Bourbons from brands such as Macallan, Brora, Louis XIII, Pappy Van Winkle, and more.
The collection has a UK retail value of over £110,000. We are selling the entire collection (bottles not available to buy individually) for £86,000.
Read more about each of the bottles below and explore more on our shop page.
Brora 1972 22 year old Rare Malts Selection, 70cl 61.1%
Diageo's Rare Malts Collection was unique because it showcased the rare single malts that Diageo had in their back catalogue. Brora and Port Ellen were two names that produced excitement surrounding the collection. However, Diageo has now removed Brora and Port Ellen from the standard yearly release, lessening whisky drinkers' excitement towards the Special Release Series. This move by Diageo has prompted a certain fascination with closed distillery styles. 
Brora has become something of a cult distillery, with a very loyal and dedicated following of whisky drinkers. Its closure in 1983 was a loss for those who appreciated Brora's distinct style. Still owned by Diageo, the distillery has remained dormant for many years, occasionally releasing some aged stocks. However, in 2017 Diageo announced plans to refurbish and reopen Brora, much to the delight of whisky fans. The distillery is currently pending-reopening. 
In the wake of the announcement, Brora has been thrust back into the spotlight. As has this particular bottling – Brora Rare Malts 1972 22-Year-Old. Many whisky enthusiasts have championed 1972 as the best year in Brora's production, and whisky bloggers have rated this one of their highest-scoring whiskies of all time. The growing interest in Brora pending its reopening and the fascination with aged stocks of closed distilleries is adding to the animation surrounding this bottle. With the reopening of Brora delayed, this bottle is of even more value. Brora stocks are fast depleting, and this bottle is a rarity – one of the last chances for whisky enthusiasts to own an 'old-style' bottle of Brora before the distillery is propelled into its new era. 
The current retail price for this bottle is £10,000.
Macallan 1955 Campbell Hope & King, Rinaldi import 26 2/3 FLOZ 75cl 80 proof (no box)
The company now known as Archibald Campbell, Hope & King was first established in 1710 when the Argyle Brewery in Chambers Street began brewing beer. Archibald Campbell Sr was running the brewery by 1756, by which time the brewery had begun to specialise in the production of porter. In 1896 the company purchased wine merchants Hope & King, hence the name of the company today. The company began to focus on selling blended whiskies such as Glenfarne and Campbell's. They also sold many limited vintages abroad, mainly in Southern Europe, in the 1940s and 1950s. 
This 1955 Macallan was imported by Fratelli Rinaldi and is said to be at least 15 years old. It is worth remembering that Macallan did not begin to bottle their own whiskies until the 1980s, encountering issues even then to do with the cask conditioning agent, Paxarette. And so, seeing this well-aged label, the whisky's natural colour, and considering its travels around Europe this bottle is invaluable to history and whisky lovers alike. If you're a collector of Macallan interested in its history or future investment, this bottle is a clear option for your collection. It is in much better condition than some of the same bottles sold for astonishing prices at auction.
The current retail price for this bottle is £8,000.
Macallan 1958 25 Year Old Anniversary Malt, 75cl 43%
This Macallan 1958 25-Year-Old was bottled in 1984 for the exclusive Anniversary Malt Range. Set apart by its distinctive wooden case and uniquely different label compared the to the regular Macallan 25-year-old, this is the second oldest vintage in the range. The combination of unique presentation, natural colour, age statement and brand makes this bottle a very solid purchase for those of you interested in celebrating something very special or being able to say that you have a vintage Macallan in your collection. 
With Macallan's reputation as one of the most investable brands of whisky, this vintage expression is one of the most collectable bottles on the market. You will be sure to see the value of this bottle rise over the coming years. Let's just hope the temptation to drink it doesn't grow at a faster rate!
The current retail price for this bottle is £7,000.
Macallan 1979 18 Year Old Gran Rerserva (2 bottles included)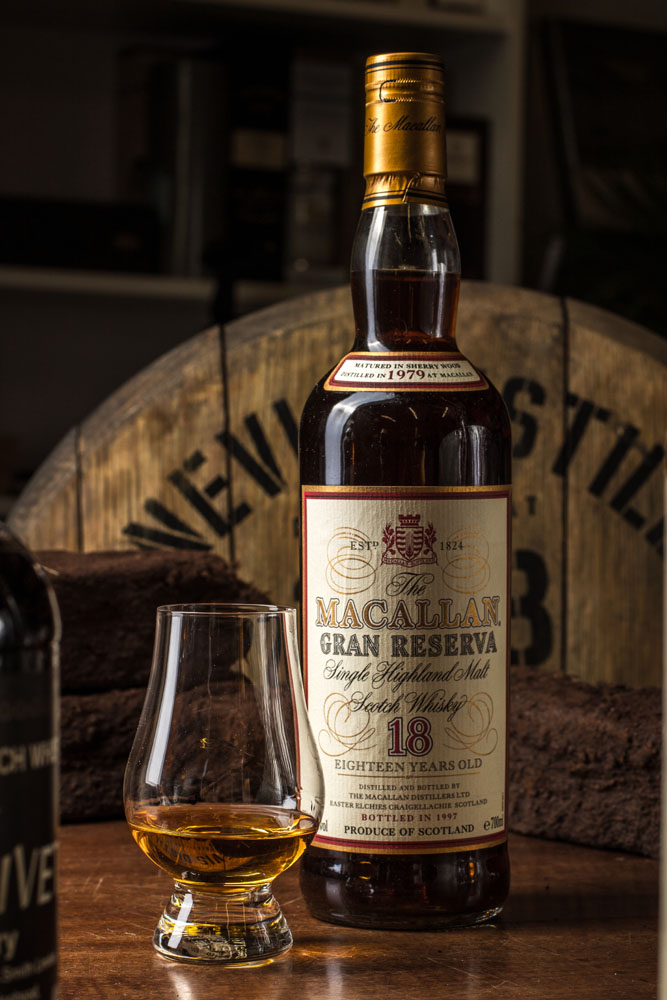 Macallan's Gran Reserva range is widely revered and toted as 'the best of the best' in the world of whisky. The Spanish term 'gran reserva' signifies that alcohol has been matured for at least five years, with a minimum of two years in oak. The same applies to the sultry whiskies in Macallan's Gran Reserva range. This range set standards of luxury that excited every whisky expert, connoisseur, and drinker. The quality of the whisky became a source of excitement all over the world. Others were able to taste and purchase whisky with a reputation to rival the most luxurious alcoholic beverages such as wines from France, Spain, and Italy. 
Distilled in 1979, just as Macallan were beginning to bottle their own whiskies, this whisky, arguably, was the genesis of Macallan, and the luxury that it purveys is what Macallan is known for today. 
The current retail price for this bottle is £5,500.
Macallan 1997 18 year old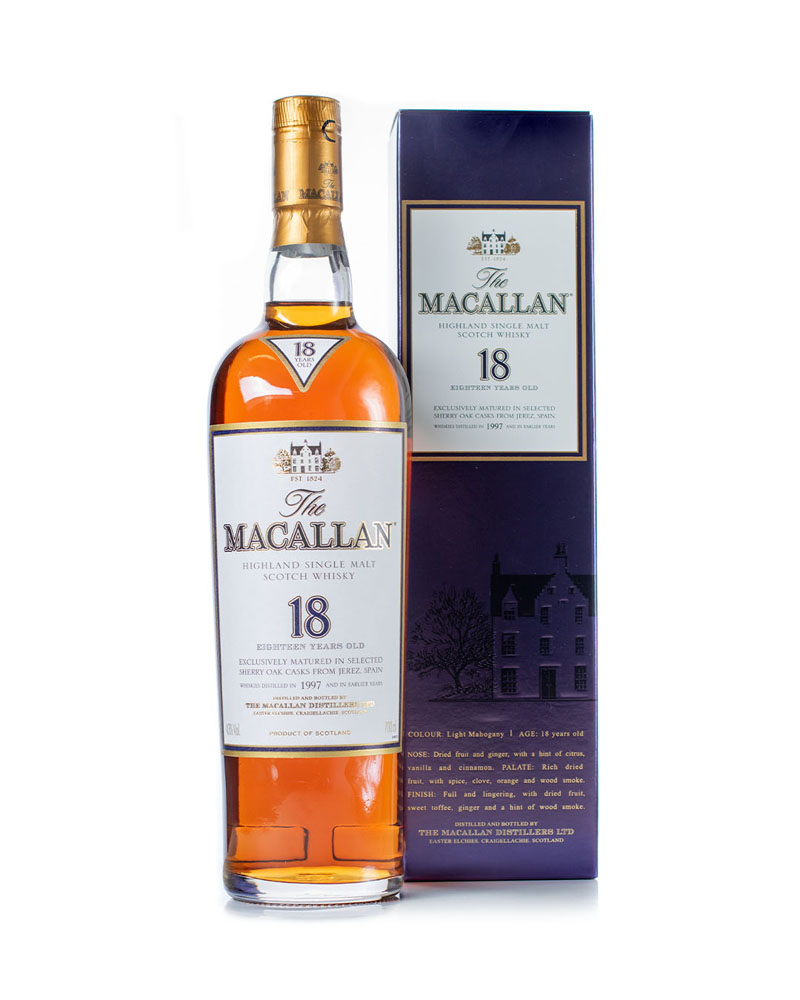 This Macallan 1997 18-Year-Old is infamous in the world of whisky. Whether it's reminiscing about vintages of years gone by, mourning one-off releases, or kneeling at the altar of heavily sherried beauty that Macallan can offer, this bottle is likely to come up in conversation. The reputation of this bottle precedes it – saying you haven't tried this whisky is the equivalent of saying that you've never watched The Godfather. Baffled looks will come your way. 
This bottling is becoming more and more precious as Macallan undergoes packaging redesign, scarce availability, and once annual releases. The Macallan 18-year-old holds memories for all of us. It is a signifier of quality that every other whisky should be held up against. Either way, when it comes to prestigious, regal, world-renowned eighteen-year-old whiskies it's hard to beat Macallan. 
The current retail price for this bottle is £400.
Macallan Chairmans Release 2001, 1700 series (2 bottles included)
A rarity in the Western world, the 2001 Macallan Chairman's Release was an exclusive bottling for the Chinese market. This bottle was the flagship release of the 1700 Series and a bottle of whisky that, age-statement or not, has received rave reviews from die-hard Macallan fans from across the world. 
Its unique decanter makes it different from nearly all other special release Macallan bottlings. The tall, swooping shoulders are gone, in place is a squat, square-looking bottle that still oozes the same charm and elegance that can be found inside the bottle. The Flint Gicel Glass Decanter allows us to view the ruby-hued whisky in all of its grandeur. 
An obscure bottle for most of us, a special edition from Macallan, nonetheless. The 1700 Series consisted of a few different releases. This and the Director's Cut were the bottles that had praise heaped upon them, and continue to attract attention and admiration today.
The current retail price for this bottle is £700.
Macallan Diamond Jubilee 2012, 700ml 52% (2 bottles included)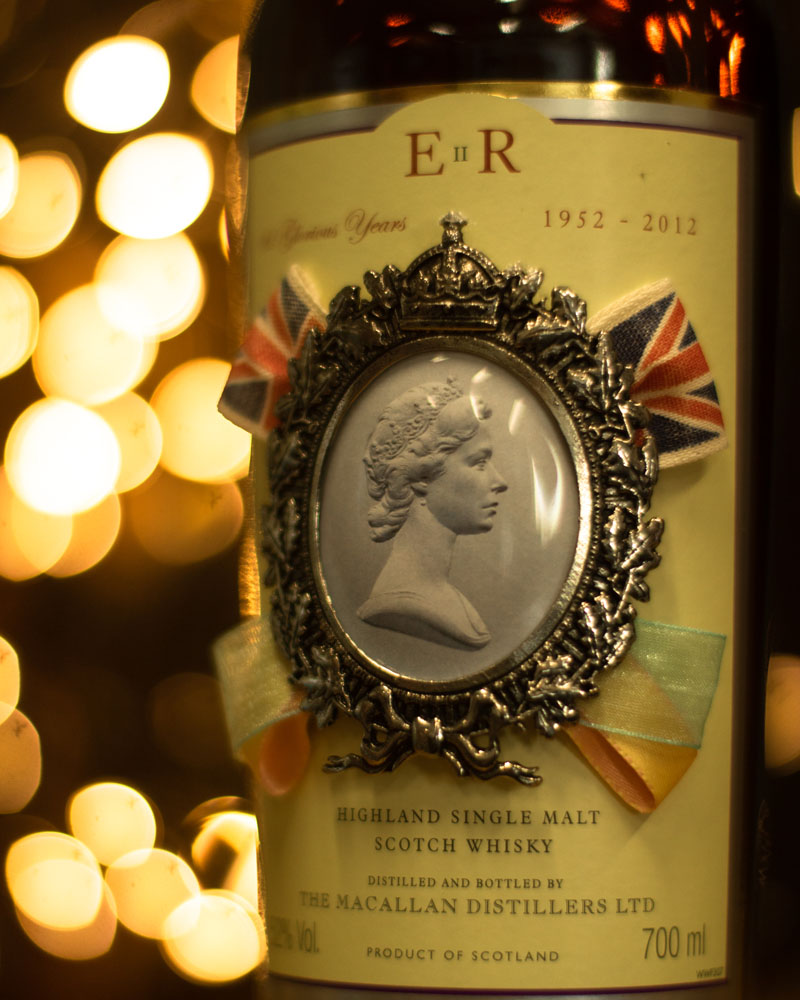 The Royal Family have served as subjects of limited edition Macallan releases over the decades. This particular bottling is another example. The whisky was drawn from the casks in early February 2012 to celebrate the anniversary The Queen's ascension to the throne and to coincide with Diamond Jubilee celebration. Bottled at 52% ABV and with a run of only 2,012 bottles, Macallan wanted to make sure that this tailor-fitted whisky was more than glorious enough to celebrate the Diamond Jubilee of Queen Elizabeth II.
With its price climbing up and up over the years, the popularity of these bottles has caused huge auction battles between anonymous buyers from across the world. Upon its initial release, much of it was drank in celebration of Her Majesty. However, for those who kept a bottle or two to one side, now is the time for those rewards to be reaped. We have two of these bottles for sale. Buy two and drink one, the one that is left is even rarer!
The current retail price for this bottle is £7,000.
Macallan Easter Elchies, 2012
Single cask Macallan bottlings are rare, very rare. It is,  if anything, the ultimate rarity in single malt Scotch whisky. Outside of bottlings from decades gone by, the only real way to get your hands on an official single barrel release is through the Exceptional Series or The Easter Elchies Bottles. 
This offering from 2012, distilled in 1999, had a run of 400 bottles at just 13-years-old. A particularly active cask was #6697, as the whisky has the defining colours of its elder statesman brothers, 18-25-Years-Old. 
Named after Easter Elchies House at Macallan's first distillery location, this series is now out of production. Typically, miniatures of the bottle were also available but we can safely assume that most of those have been drunk in order to save the bigger bottle for later. Those that have refrained from drinking their Easter Elchies Macallan are now in possession of one of the rarest Macallan's in the world.
The current retail price for this bottle is £4,000.
Macallan Oscuro 1824 (old packaging) 2014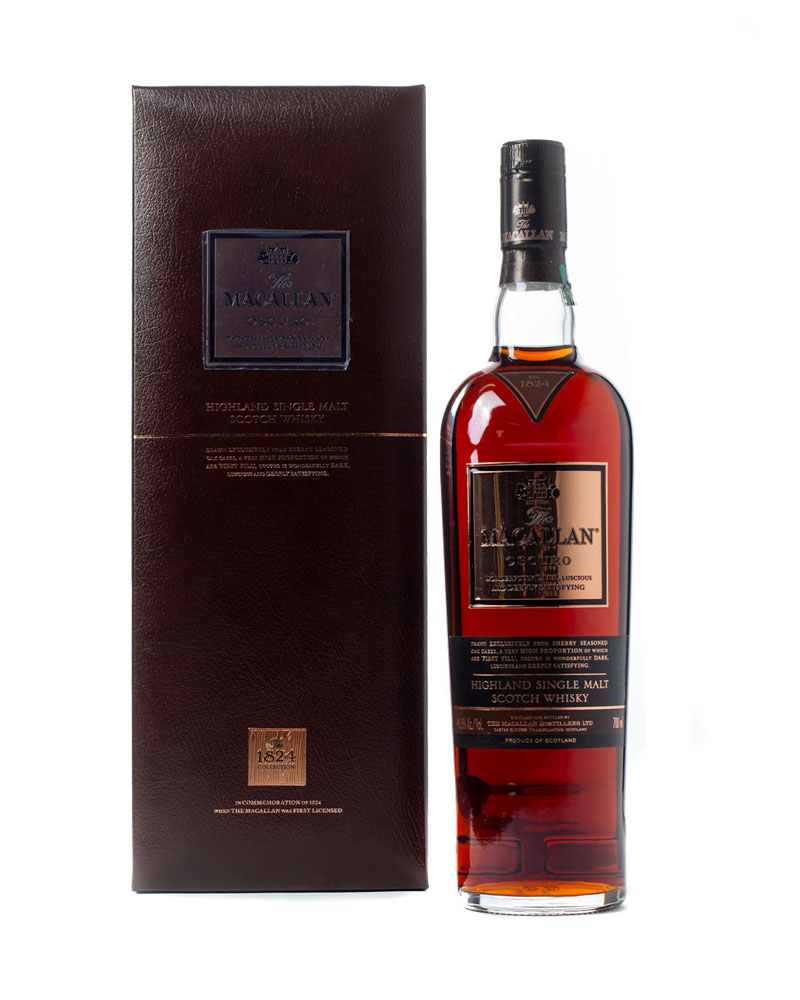 This Macallan Oscuro is considered 'the one that got away' for some Macallan fans. The whisky was rebranded and released in 2015, however, the particular bottle features the original packaging of the Macallan Oscuro release for the Global Travel Retail Market. 
A combination of casks from 1987 and 1997, the Oscuro was placed into airports to showcase the luxury of Macallan's style without the need for an age statement. Along with the regular 1824 Series (Gold, Amber, Sienna & Ruby) this release was a step into the world of no-age-statements for Macallan. The brand was well-known for age-statement whiskies from everything from ten through to thirty-year-old whiskies. This fresh approach took some getting used to for a lot of Macallan fans. 
However, this bottle, pre- 2015 facelift into a much more unusual bottle, is one of those whiskies that got away for a lot of Macallan fans. No, it does not have an age statement, but the whisky inside is beloved by a lot of whisky enthusiasts – a classic Macallan that flew somewhat under the radar comes back into the spotlight with this original bottling.
The current retail price for this bottle is £1,000.
Macallan Royal Marriage 2011, 700ml 46.8%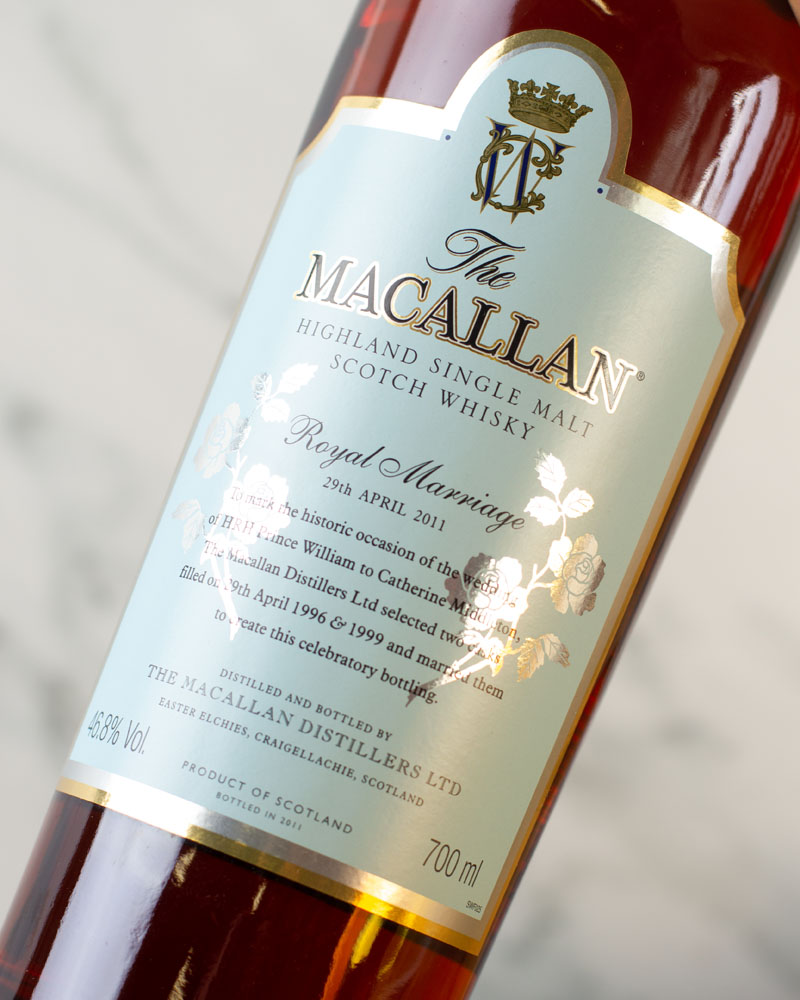 A marriage of casks on April 29th between whiskies from 1996 & 1999, vatted together to celebrate the wedding of Prince William and Katherine Middleton. 
Only 1,000 bottles of this modern-day collector's piece were ever produced, and with the labels and box design done by David Holmes – the man behind the 1981 Royal Marriage bottle –  this bottling exudes excellence and quality whilst showcasing the history that Macallan has in creating whiskies for marked occasions. 
Much like the Diamond Jubilee bottling and the 1981 Royal Marriage bottle, this is another one-off release of a very limited style from Macallan. After just 1,000 bottles being released worldwide and nearly a decade on the market, these bottles are very hard to find and becoming increasingly more sought after. This special release is the ideal addition to any collector's selection. 
The current retail price of this bottle is £5,000.
Now that I have introduced to the fantastic Scotch whiskies that we have to offer, let me tell you about our wonderful selection of rare Japanese whiskies. 
Karuizawa, 1979 – 2014 35 year old single cask, 700ml 58.8%
Anybody who is involved in the world of whisky knows that Japanese whisky has been a growing phenomenon for the last six years. Awards bestowed on some of these whiskies meant that stocks sold out almost immediately as whisky-lovers scrambled to get a taste. Demand soared and stocks fell. Now, add a closed distillery to the equation and you get one of the biggest, boldest, and fastest-moving investment products on the planet: Karuizawa. 
Karuizawa was a distillery nestled at the base of Mount Asama, near Osaka, Japan. The distillery supplied whisky for blends, mothballed in 2000, and closed for good in 2011. Interest in Karuizawa was revived when Marcin Miller and David Croll rescued the remaining Karuizawa stock from being lost to blends. There were very few casks left to rescue, and so it is argued to Karuizawa whisky is the rarest whisky in the world. It is arguably also some of the most luxurious. The climate in which the whisky was matured – humid, with fluctuating temperatures – and the age of the stocks have contributed to the distinct flavour and profile of Karuizawa whisky. This flavour is now sought after, hence the popularity of this Karuizawa 35-Year-Old. Only 350 bottles were produced from this 1979 vintage, bottled for La Maison Du Whisky in Paris. 
For years we've been hoping that the Japanese whisky bubble would pop, but even with the removal of premium bottles from huge companies, demand is still extremely high. The last cask of Karuizawa owned by Taiwanese collector Eric Huang has been bottled and will be released in November this year. Named, The Last Masterpiece, the release showcases just how rare this whisky is, and that this 35-Year-Old bottle should not be taken for granted. 
The current retail price for this bottle is £7,000.
Yamazaki 18 year old, 2017 edition, Mizunara Japanese Oak Casks, 700ml 48%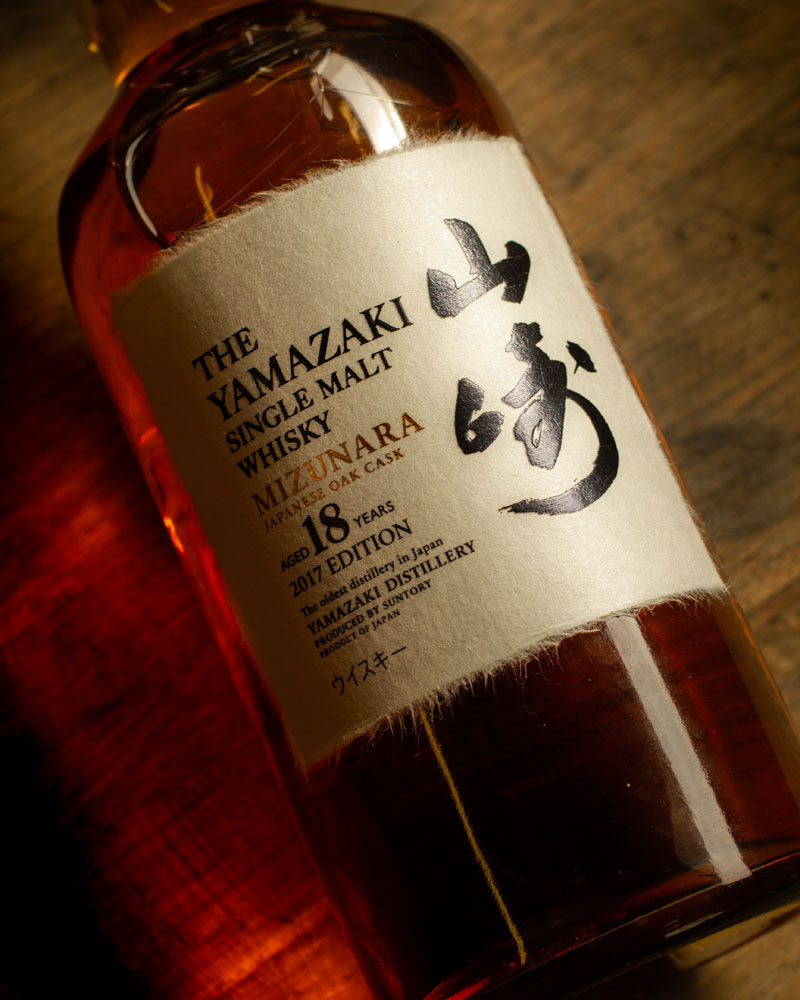 Legally, the age declaration on a bottle of whisky must be the age of the youngest spirit in the bottle. Therefore, this particular bottling contains whiskies aged from eighteen to fifty years old. Also unique about this bottling is the cask that the whisky was matured in – minuzara.
Mizunara is a tricky wood to work with. It is a tree that is native to Japan, and was not the first choice for whisky casks due to the fact that it takes over 200 years to mature, and also that the wood is extremely porous. In fact, the only reason that minuzara was ever used to mature whisky is because the Japanese import market was under strain in World War II. With no imported casks to use, the Japanese had to fashion their own. However, despite the initial aversion to minuzara, it is still used today to mature Japanese whisky. 
Minuzara contains a significant amount of vanilla that imparts wonderful flavours on the whisky. However, to really obtain flavour from Mizunara, spirits have to sit for the better part of a decade, if not more. This isn't a problem when you're dealing with a minimum age of eighteen-years-old, however, it's lack of water tightness then plays into effect. 
When ex-Bourbon or ex-Sherry casks are filled with new make spirit, they become watertight. For a long time, these barrels can sit undisturbed, retaining their impermeable selves. Evaporation is a whisky maker's worst enemy. Add a leaking cask into the equation and you're losing money hand over fist. However, with the odds against them, Yamazaki made an extraordinary minuzara-matured whisky. And wow, did they do it well. 
The current retail price for this bottle is £4,400.
As well as these rare Japanese whiskies, we also have some luxury Cognac in this spectacular collection…
Remy Martin Louis XIII Black Pearl Cognac 100-year-old
The presentation of Louis XIII Black Pearl is widely celebrated – no other bottle quite compares to this one. The origins of this wonderful decanter can be traced back to 1850, when Paul-Emile Remy Martin was inspired by a metal flask that was found at the site of the battle of Jarnac. He designed a glass replica of the flask to serve as the bottle for the company's best cognac. To obtain this decanter's unique look, The Black Pearl's Baccarat crystal was treated using a specialised plating technique that utilises titanium, carbon and gold. Every decanter is handmade by crystal manufacturers Baccarat, Saint-Louis, and Cristallerie de Sevres. The delicate composition and craftsmanship involved help to create a pearlescent shine that morphs as light hits the bottle. 
This was the first release in a range of limited-edition releases. In 2014 The Black Pearl Anniversary Edition was released in celebration of 140 years of the brand from 1874-2014. All the decanters were numbered, and only 775 of them were ever released, making this spectacular bottle a rarity. 
Owners Remy Cointreau released these bottles during a sharp decline in sales on cognac all over the world. Despite this, the Louis XIII Black Pearl is revered by premium spirits collectors, hence the astonishing retail price of these bottles today. 
The spirit in the bottles was aged between 40 and 100 years. It is no wonder that this cognac is regarded as one of the most luxurious spirits in the world. The product and its packaging ooze opulence. This would be the crown jewel in any collector's crown.
The current retail price for this bottle is £26,500.
Remy Martin Louis XIII Champagne Cognac 100-year-old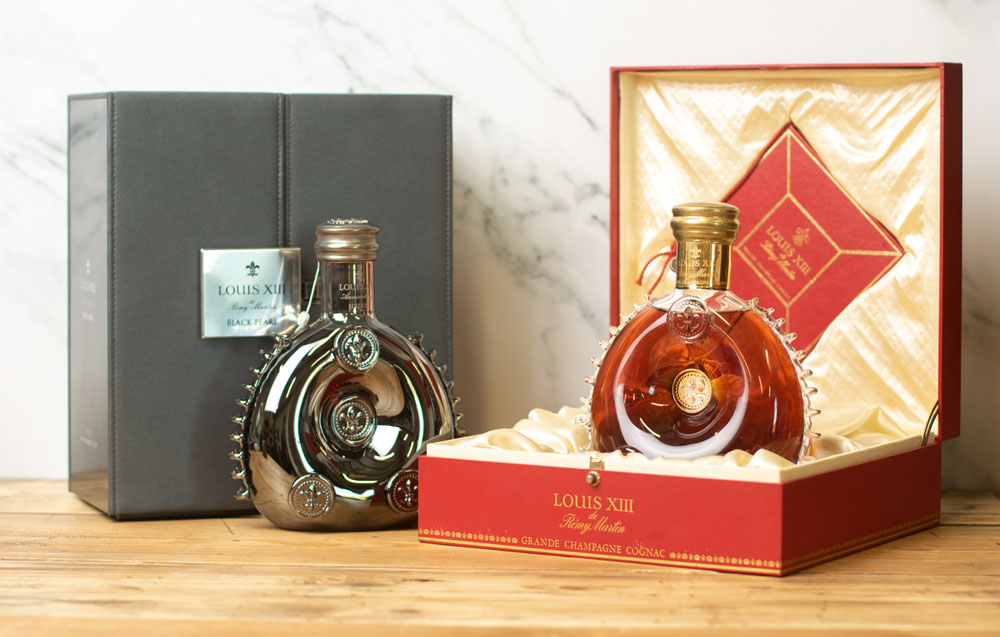 We talk about whisky quite a lot, so this is a wonderful change in pace and history for us. Remy Martin are one of the most premium, well-known and sought after Cognac manufacturers in all of the world, and this, The Louis XIII, is the huge jewel in their crown. 
One of the first global luxury brands, Louis XIII started its journey in 1874. It was registered in the United States by 1878 and further cases were delivered to Shanghai by 1883. A number of different liquids became more increasingly involved in the creation of the cognac over time, namely, blend of over 1,200 Grand Champagne eaux-de-vie from 40 to 100-years-old. The decanter alone was the craftsmanship of 11 of the finest crystal makers at Baccarat.
The brand was established under the reign of King Louis XIII, and he was the first to recognise the superior quality of spirits coming from the Cognac region of France. Therefore, Remy Martin felt it more than appropriate to give his name to their ultimate expression. 
With whisky, it is rare to encounter anything with over 75 years in the cask – the Gordon & Macphail Mortlach is still holding onto that crown. With Cognac's unique process of storage, decades of cellar-masters' work can be sampled, blended, and tasted in this release from Remy Martin. A delight for Cognac and spirit drinkers all over the world.  
The current retail price for this bottle is £3,000.
And last but not least is a Bourbon that is extremely hard to come by on the market. We have the wonderful Pappy Van Winkle available here. 
Pappy Van Winkle, 23 Year Old Family Reserve, Kentucky straight Bourbon Whiskey, Bottle #H2409 750ml 47.8%/95.6 proof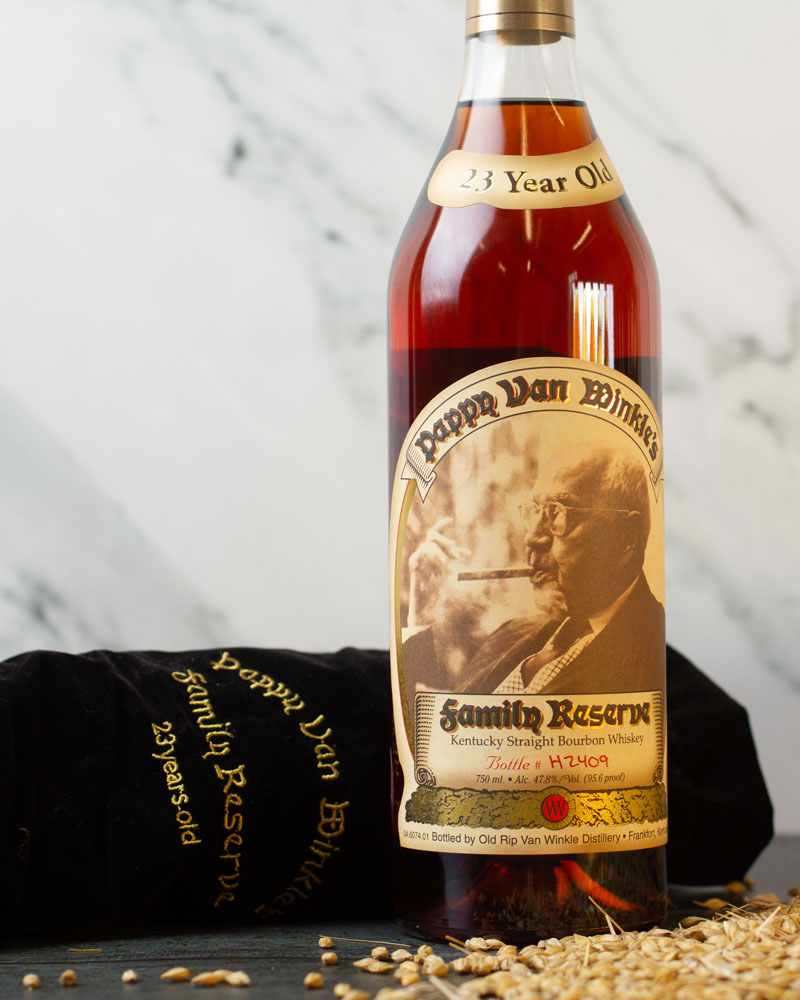 The surge in demand for American whisky in the last decade can almost certainly be attributed to Pappy Van Winkle. The ultimate American rarity, shopkeepers could do nothing but shake their heads when customers asked if Pappy Van Winkle was in stock. At one point it almost seemed as if the brand was simply a myth, and these bottles of whisky would never be seen outside of limited ballot releases and auction houses. 
The story of Julian 'Pappy' Van Winkle is what gives the bottle its name. Van Winkle began selling whiskey for William Larue Weller when he was 18-years-old, before buying the firm fifteen years later. In 1910 he started his own distillery and quickly became a huge success. He carried a reputation of such high-quality wheated product that he actually assisted in helping Bill Samuels with starting Makers Mark, lending him some new make spirit to show off the wheated Bourbon style. By the time of Van Winkle's death in 1965, Pappy Van Winkle was the oldest active distiller in the US. The label on the bottle features a photograph of Van Winkle lighting a cigar – a fitting tribute to the revered distiller. 
Twenty-Three-Year-Old Bourbon shouldn't work. The heat of Kentucky and the volatility of virgin oak casks should spoil the delicate balance of the spirit. But, somehow, through this softer spirit that is absent of any Rye grain – it works. Even with the vatting of several casks, you can never be looking at more than 250/300 bottles of this whiskey in the world at any point. That, with the addition of a single release per year just makes this bottle the ultimate in collector's Bourbon. 
The current retail price for this bottle is £2,000.
This striking collection contains some astonishingly rare bottles that would be an asset to any whisky enthusiast's collection. The retail prices of these bottles are extreme. Combined, the 19 bottle collection has a retail value of £110,000. At Mark Littler Ltd, we are offering the entire collection for just £85,000. 
If you are interested in purchasing the collection, visit our shop to complete the purchase. If you would like any more information about the collection or the specific bottles that make up the collection, please do not hesitate to get in touch. We are more than happy to answer any queries.
In the meantime, our shop has a number of great bottles on offer that you can buy right now, including a Laphroaig 1978 and a Port Ellen 1979.