For over two years we've been instrumental in the education of consumers on the logistics of cask ownership. Specifically, the focus has been on the importance of receiving a delivery order. 
The signing and acknowledgement of a delivery order by the seller of the cask, the buyer of the cask, and the warehouse keeper at the warehouse where the cask is being stored, is the only way of transferring cask ownership at the warehouse level. 
Whilst some brokers and dealers offer a certificate of ownership/acquisition/title it is important to know that these are not substitutes for a delivery order. Buying a cask and not receiving a delivery order is like buying a car without receiving the v5 document; you may have title to the cask but you have no autonomy or control over it.
We published our first comprehensive article on delivery orders in early 2020, and wrote about the pitfalls of not receiving a delivery order in our cask buying guide published later that year. We have also taken it upon ourselves to expand onto other platforms, making YouTube videos all about delivery orders and WOWGRs. 
We do not want to take credit for the concept of delivery orders for private cask owners.  The guidance that we follow, and have been talking about vocally for so long, stems from the guidance offered by The Scotch Whisky Association (SWA).  
For many years the SWA has insisted in their official guidance that any private cask buyer should take full title and ownership of the cask they are purchasing which is achieved by transferring the records at the warehouse from the buyer to the seller:
"If the cask is located in a warehouse that belongs to someone other than the seller, you should ensure that the transfer of ownership is properly recorded and acknowledged by the warehouse keeper. Traditionally this was done by way of a delivery order, a document setting out the details of the cask to be transferred, signed by purchaser and seller and then delivered to the warehouse keeper. Nowadays an invoice or owner's certificate may suffice.
Before completing the purchase you should check with the warehouse keeper what documents they require and ensure that the seller can deliver them to you."
Scotch Whisky Association, Personal Investment In A Scotch Whisky Cask, 2020
You can read the SWA guidance in full here.
Having been a lone voice on this subject for a number of years now we're pleased to see that many other whisky journalists and publications have been starting conversations about the importance of delivery orders. In recent weeks, whisky journalist Blair Bowman, and publications such as The Sunday Times have written about the logistics surrounding cask ownership, and how you can make sure that you truly own your asset. 
Blair Bowman is a whisky journalist famed for starting World Whisky Day and has recently picked up on the dangers of not receiving a delivery order with your cask investment. In an article published in Cask & Still Magazine, July 2021, Bowman speaks candidly about the dangers of cask investment done wrong, including the fabled 582% returns, historical whisky scams, and insisting on a delivery order.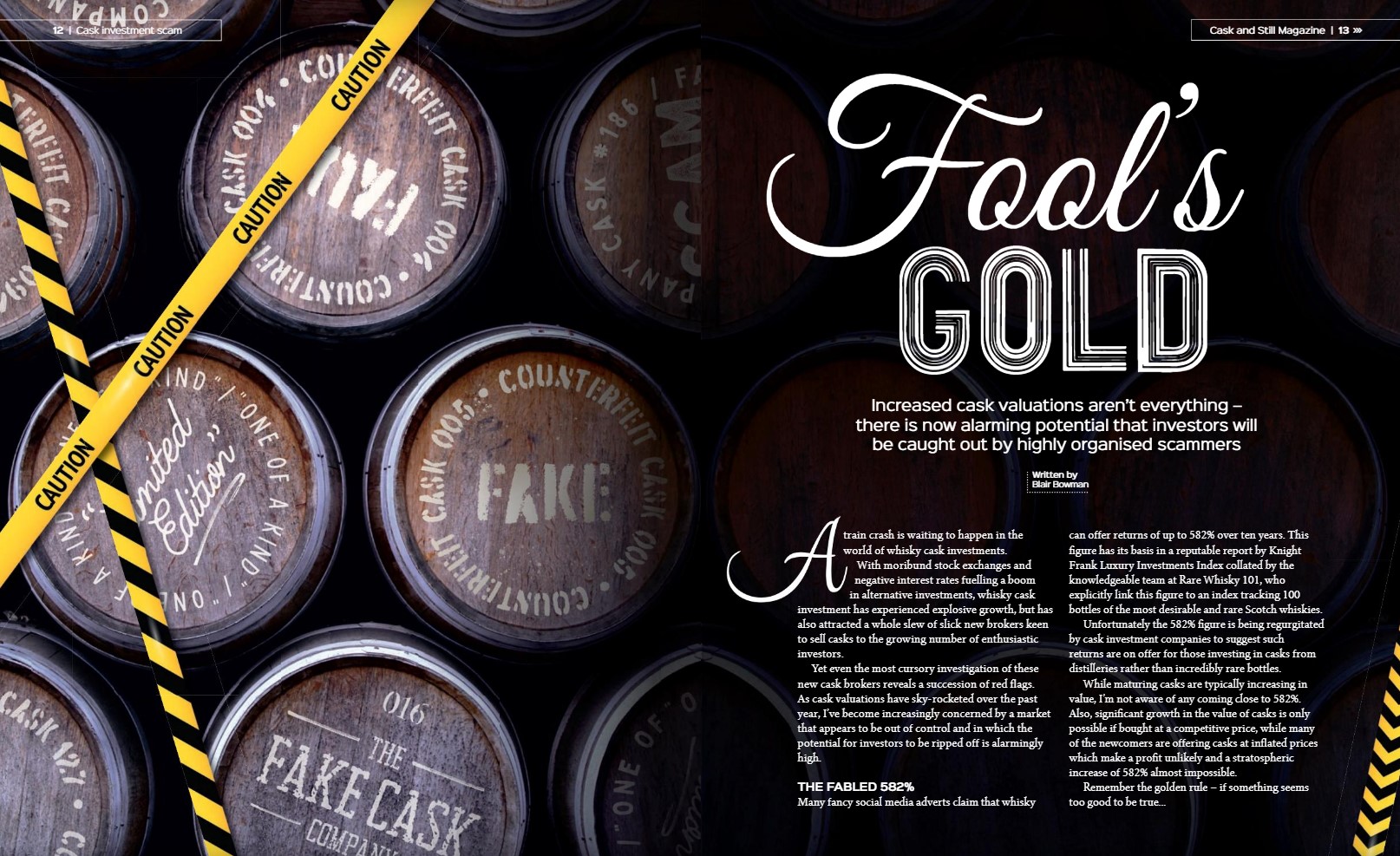 The five-page spread goes into detail about what could happen if you do not do your due diligence before investing in casks of whisky. The first point of focus is the 582% returns figure that is often quoted by brokers and dealers trying to sell casks. This figure stems from those quoted in the Knight Frank Index, a publication that, crucially, only analyses the growth of rare whisky bottles, not casks. This is followed by a discussion into the "guaranteed returns" that are toted by many cask brokerage companies, despite the fact that there is no such thing as guaranteed returns in cask investment. 
Examples of just what can happen when cask investment goes wrong is the next focus of the article, with Bowman citing cask scams such as that of the Nant whisky group, who were selling casks that do not exist. Bowman highlights the importance of using Companies House when researching brokers and dealers to invest through, making sure to note how new the companies are, where they are registered, and what name they are registered under.  
Now, we come to the most important aspect of cask ownership: receiving a delivery order. Blair Bowman goes into detail about the need for a delivery order in order to prove ownership in the eyes of HMRC, and the excuses that are listed by some companies for not providing a delivery order. Bowman also warns against falling into the trap of buying from non-existent or yet-to-be-built distilleries such as the Grandtully distillery. 
Bowman concludes by stating his worries about the state of the whisky cask industry should this kind of conduct be allowed to continue, stating that he is "very worried indeed".
Now, the articles surrounding the logistics of cask investments are not intended to scare, but to educate. Our focus has always been on consumer education. 
Another national publication that has caught onto the issues surrounding cask investment is The Sunday Times. They published an article on the subject on 11th July 2021. 
The article begins by referencing Cask & Still Magazine's article on the subject, using the examples of the Australian whisky scams to illustrate the need for watertight paperwork to guarantee your ownership. 
Facts and figures from within the industry show just how popular casks have become as an investment, with The Sunday Times stating that "purchases of casks […] grew 14 percent last year as part of a decade-long upward trend". 
They then quote Blair Bowman, who speaks candidly about how potential investors are attracted to these companies due to the heavy-handed marketing and the promise of astonishing returns. 
Unfortunately, legal loopholes allow these companies to operate in this manner without any repercussions. Hence, the articles by ourselves, Cask & Still Magazine, The Sunday Times, and Whisky Magazine aim to draw attention to these issues.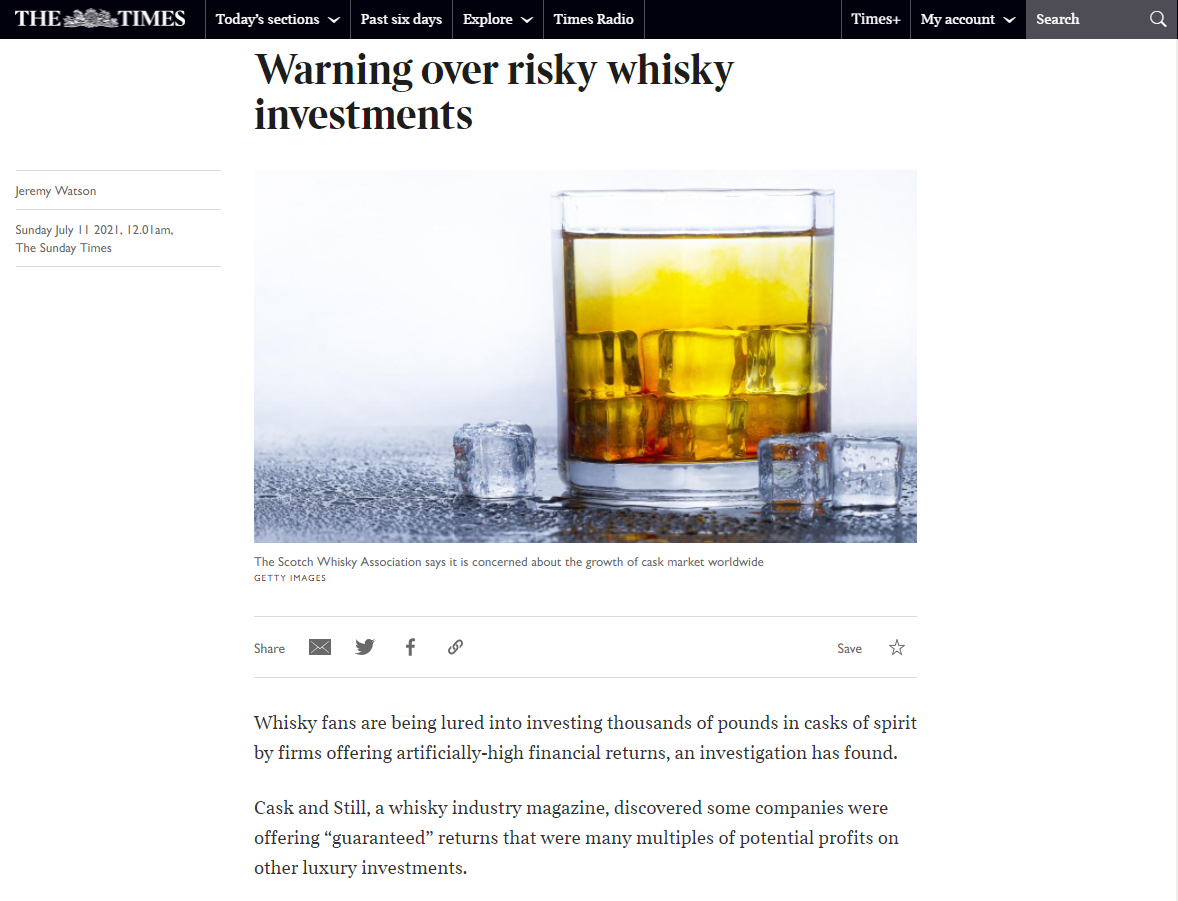 Yet another publication that is catching onto the issues surrounding delivery orders is Whisky Magazine. They published a long-tail article on the subject in July 2021. 
The beginning of the article focuses on the worrying fact that whisky cask investments are not regulated by the Financial Conduct Authority (FCA), and that this means that there are many potential issues should something go awry. The unregulated nature of the industry allows many businesses to operate in such a way that is dishonest, but does not break any laws. 
The article then focuses on a number of whisky cask scams, that we wrote about in March 2020, including the Grandtully distillery scam, the Nant Whisky scam, the Napier Spirit Company, and Cavendish Wines. The above examples are proof of what can go wrong if you do not receive full ownership of your cask, nor educate yourself on the potential pitfalls of cask investment.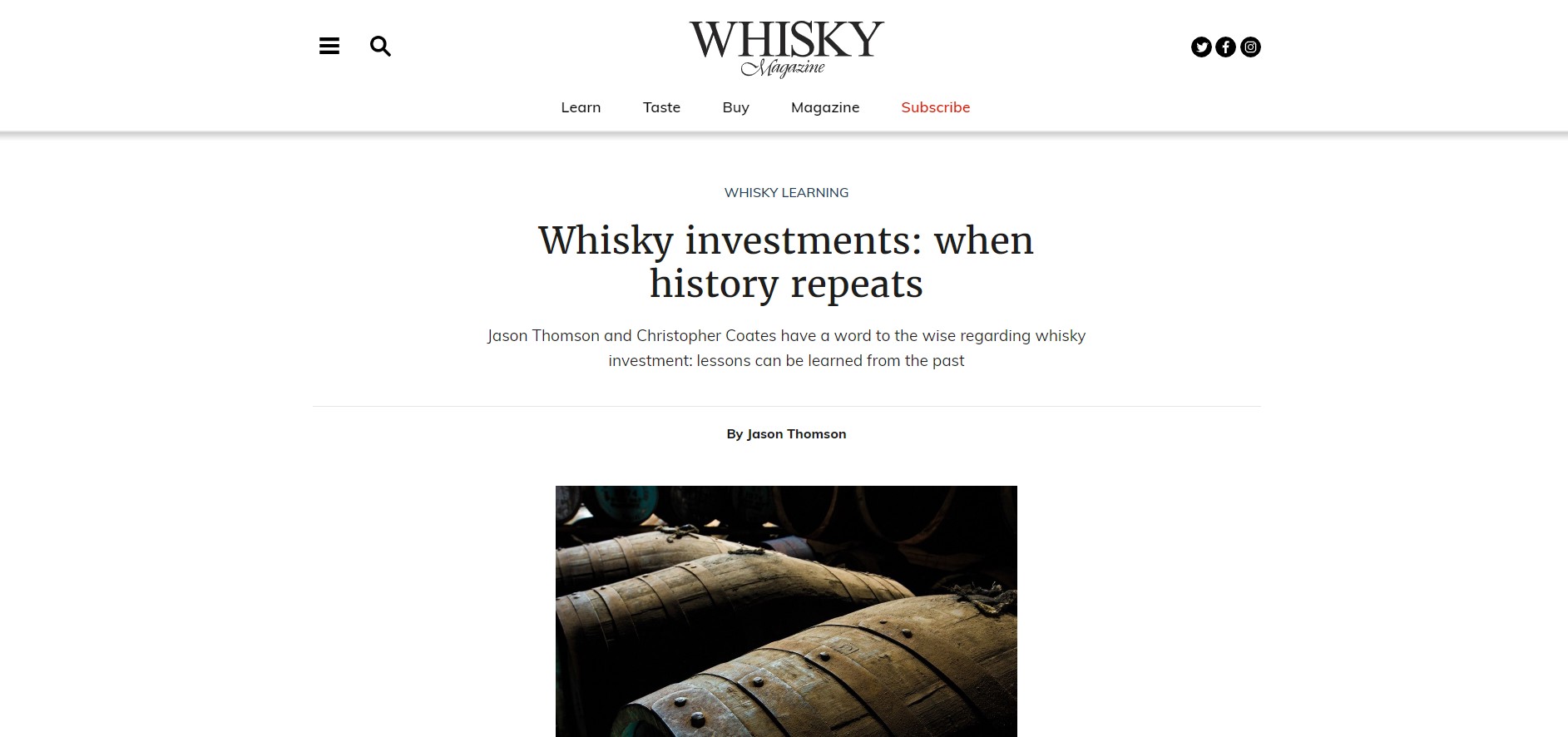 Then, Thompson moves into talking about the ridiculous figures quoted by many cask brokerage companies in terms of the potential return on investment. However, as previously mentioned, this figure comes from the growth of whisky bottles on the Knight Frank Index which, crucially, is only concerned with bottles, not casks. Therefore, the figures that are often quoted by these companies actually pertain to a different asset altogether. 
Andy Simpson of Rare Whisky 101 and Martin Armstrong of Whisky Broker give their testimonials as to the issues with cask investment, including the misleading notion that you must have a WOWGR in order to receive a delivery order. Again, this is not true (unless you are a revenue trader). We made a YouTube video on the subject in the hopes of dissuading investors from being led astray by dishonest companies. 
This lengthy article goes into a lot of depth when discussing the issues surrounding cask investment, with quotations from experts within the industry to back up the idea that cask investment is only a good investment when it is done correctly. 
This Forbes article, by Felipe Schrieberg, takes the form of 4 top tips to avoid being scammed when investing in whisky casks. These tips are: "
Avoid firms that mention a '586%', '564%', or '562%' 10 Year ROI

Beware claims of 'guaranteed returns'

You don't really own a Scotch Whisky cask without a Delivery Order

The scams are still around"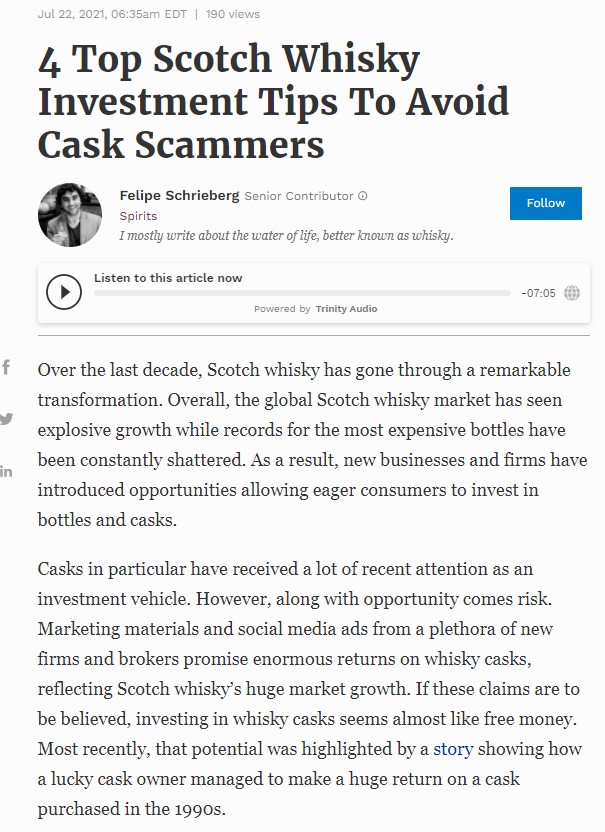 Schrieberg begins by quoting some of the extremely misleading figures that are touted by many cask investment firms. Again, the above figures refer only to 100 specific, rare and collectible bottles of whisky that are tracked by Rare Whisky 101, and have nothing to do with casks. 
Next, Schrieberg warns against trusting companies that guarantee return on investment (ROI). There is no such index that tracks cask investment performances, leaving many to wonder how these companies can make these claims. In reality, the firms that promise 10-20% annual returns are most likely relying on historical cask investment figures showing the growth in value of certain casks from the 1990s to today. Whilst some casks have risen astonishingly in value since the 1990s, the market is in a very different position today. Schrieberg then quotes our very own Mark Littler who says that "[s]ingle malt Scotch whisky is now an internationally recognised luxury asset, so the gains that have historically been possible are not necessarily going to be possible going forward."
The third tip, and probably the most important thing to remember, is that you do not own your cask if you do not have a delivery order. Here, with a quote from Blair Bowman, Schrieberg touches on the idea that not every cask investment company refuses to offer a delivery order because they are deliberately setting out to scam investors, but that many of these companies are simply not in a position to be able to transfer ownership properly. 
We are able to transfer ownership of casks to our clients because we work exclusively with an HMRC bonded warehouse that allows private accounts. Whereas, many cask investment companies do not have this kind of arrangement in place, meaning that no private individual can keep a cask in their warehouse. 
Lastly, a note of caution. The kinds of cask scammers that were behind the Grandtully scam, the Nant whisky scam, and the Napier Spirit Company scam are, unfortunately, still around within the industry. With another quote from Mark, Schrieberg illustrates that the practices of the cask investment companies that are popping up today are remarkably similar to those of the cask scammers of the 1990s and early 2000s. 
It is very important to do your research now, and invest through the right company, rather than becoming stuck with an asset that you do not really own when you decide to cash in on your investment. Selling a cask without a delivery order is a very tricky business. 
If you follow the above tips, and educate yourself on the logistics of cask investment then there is no reason why you cannot make a smart investment. Cask investment is a tricky business, which is why trusting in the right people is so important. 
The Whiskey Wash also featured Felipe Schrieberg giving his four tips on safely buying a cask of whisky. These four tips are: 
Get a Delivery Order
Buy directly from a distillery
If buying mature whisky, get a sample and regauge the cask
Understand the numbers.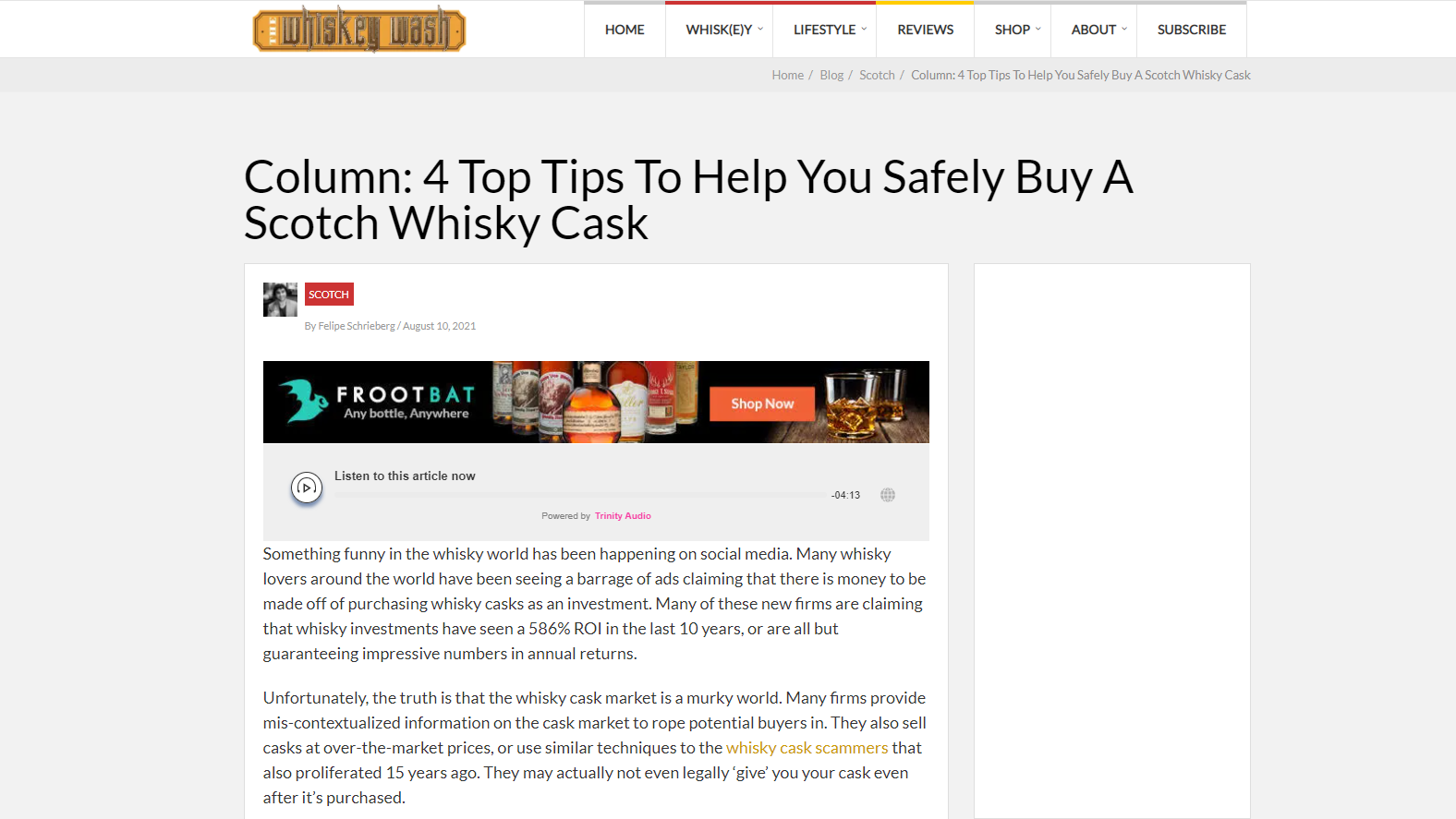 The first tip in this article is the big one: get a delivery order. Alongside the other publications in this article, The Whiskey Wash has also caught on to the importance of a delivery order. The delivery order will officially acknowledge the transfer of ownership in the eyes of the warehouse, making the cask legally yours. Schrieberg also reminds readers that a 'certificate of ownership' is just a nice piece of paper and doesn't legally mean anything. 
The second tip in this article is one that isn't talked about as much, and that is to buy a cask directly from the distillery. This isn't always an option, but if a cask is bought directly from the distillery it guarantees the cask is in your name as there is no third party involved. 
The next thing discussed in the article is the need for a regauge when buying mature whisky casks. A regauge will determine the strength and fill level of the cask, allowing a rough calculation of the value of the cask. 
The final tip in the Whiskey Wash article is to understand the numbers involved in purchasing a cask. There are various costs and numbers associated with casks, including VAT, potential bottling costs, uplift, and labeling. The Whiskey Wash references our very own cask calculator in their article as a way of assessing the cost of your cask.    
Watch This Space
Now that there are national publications catching onto the problems within the industry, it seems likely that the companies that are not being honest about the industry within which they operate are on doing so on borrowed time. 
We know of a number of other articles that are due to be released, including one from Rare Whisky 101, a company that tracks the progress of rare whisky bottles on the secondary market. 
If you have any questions about whisky cask investment, then we are more than happy to help. Just email [email protected] with your questions and we will get back to you. 
Happy investing, and stay safe!