The term taxidermy is based on the Latin Taxis (to arrange) and Derma (skin). Traditionally taxidermy is considered the process by which the skin of a subject is preserved and then arranged in a lifelike form.
Taxidermy has a rich history and during most of its development was entwined deeply in the early science of the natural environment; museums were a significant buyer of taxidermy throughout the 18th and 19th century when it was at its peak.
Taxidermy can be found from as far back as the 16th Century as people sought to understand, study and keep record of the world around them. One of the earliest known taxidermy specimens is a Crocodile dating from 1530 and hangs from the ceiling of a church in Northern Italy. Specimens that remain from the 1600s include personal trophies from hunting and favoured domesticated animals; prized horses were very popular taxidermy during this period. Much early taxidermy is lost or in poor condition; often suffering from moth and insect damage due to unrefined early preservation techniques.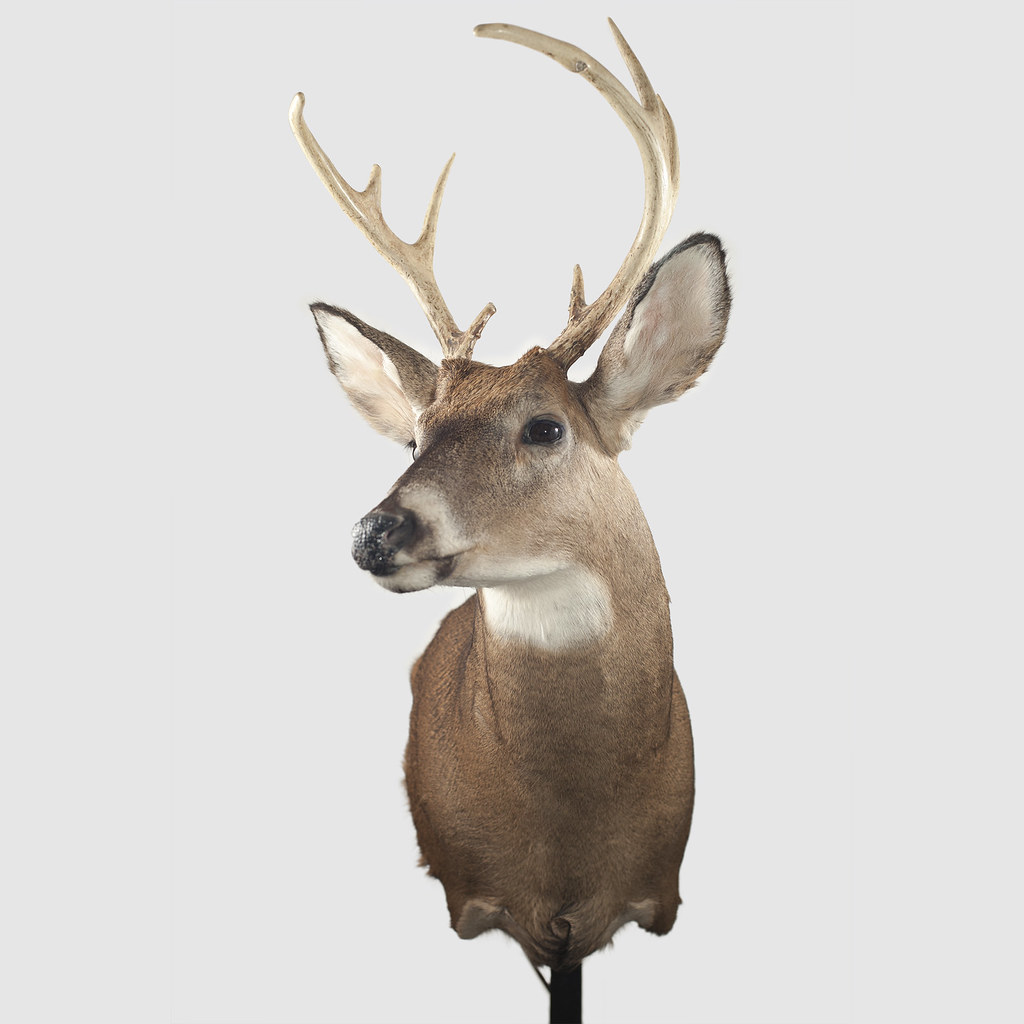 In the 1970s-1990s social perceptions of the natural environment changed. People became more aware of the damage caused to ecosystems by the systematic hunting of animals for sport, pest control, fashion, profit and arguably science. Museums and some private collectors were suddenly ashamed of the collections they had amassed in the name of science. Many collections were hidden. Some were destroyed completely for fear of being thought to condone animal cruelty. The result is that much taxidermy was lost. Progressive attitudes and important laws to protect vulnerable species also means the sale of certain items are now banned– elephant and rhino head mounts for example – or considered socially unacceptable.
In recent years the stigma surrounding taxidermy has softened to reflect the understanding that many types of taxidermy are benign, and to recognise taxidermy's importance to the historic study of natural history. Much inoffensive taxidermy art remained safe in private collections or were dispersed rather than destroyed and are now part of a flourishing collector's market.
There are many great names in taxidermy, however Rowland Ward is one of the most famous British taxidermists. Rowland Ward taxidermy is generally of the highest quality, easy to identify and carries contemporary standards of beauty, as such pieces are sought-after by collectors.
The history of Rowland Ward Ltd.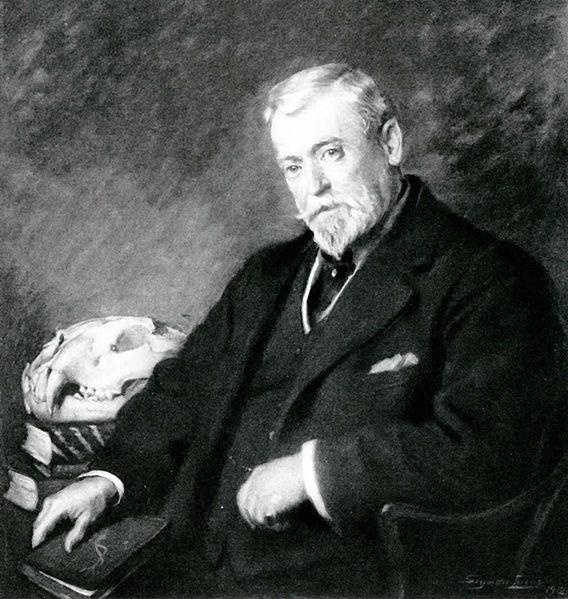 Rowland Ward set up his own taxidermy business in 1870 after training under his father, Henry Ward for several years. When Henry Ward passed away Rowland Ward absorbed his father's business and many of his contacts, building upon the established Ward name as the go to London taxidermist. In 1904 Rowland Ward Ltd. was granted a Royal Warrant officially naming them the foremost taxidermist in then land. Rowland Ward died in 1912 but the company persisted under a series of managers and the highest quality taxidermy bearing the Rowland Ward name continued to be produced until the 1960s.
The success of Rowland Ward Ltd. was down to Rowland Ward's dedication to improving and refining his craft and his savvy business acumen in terms of diversification and advertisement. He consistently strived to produce the highest quality work, for example by refining and establishing the regular use of clay to maintain lifelike features in animals with fine or no hair. He also used the national press to cultivate interest in his business; harnessing the fame of many of his renowned ex-zoological projects to increase the status of Rowland Ward Ltd and by displaying the most eye catching art in the window of his store. As a result his workplace 'The Jungle Piccadilly' became somewhat of a tourist attraction, all adding to his status.
Rowland Ward the big game specialist
When it was socially acceptable Rowland Ward Ltd. was the foremost taxidermist for big game. His spacious workshop was one of the few large enough to handle big animals whether a horse, hunting trophy or deceased zoo animal. Ward also produced field guides for hunters, showing how to best prepare skins and take measurements. This had the double benefit of making sure skins arrived in good condition and that there were good dimensions from which to create bespoke taxidermy of the highest quality.
Many of the specimens collected in this way would have been commission by or sold to museums or universities who studied and classified the natural world that was little understood at the time. An intricate taxidermy diorama of giraffes, wildebeests and birds created and donated by Rowland Ward Ltd. in memory of Ward's death still stands in the Natural History Museum, London.
Rowland Ward: Historic Dog Breeds
Not many taxidermists would undertake commissions on pets; people were rarely satisfied with the results and therefore refused to pay. Rowland Ward was one exception and not only that he took pride in creating them as perfectly as any other of his pieces. If fact he submitted a collection varying breeds of dogs to Crufts for assessment by breed specialists. This collection of dogs now offers a fascinating insight into the changes in specific dog breeds over the last 100 years, providing an important piece of social history.
Rowland Ward: Taxidermy Furniture
Antler furniture was popular in Germany in the 18th and 19th Centuries, however it was Rowland Ward who is considered to have pioneered true taxidermy furniture. Electric and gas lamps supported by birds or small mammals, and various skins lacquered to form tabletops or as foot stool covers, as well as less subtle, full forms manipulated into chairs or posed as dumb waiters.
Rather than waste the body and appendages of skins that were only to be displayed as a head mount Rowland Ward also pioneered the use of as much of an animal as possible. While skins from sustainable sources, bird fire screens and similar taxidermy furniture are still popular, much of this kind of 'additional' furniture is now considered poor taste; Inkwells from horses hooves are inelegant and giraffe skin bins are garish by modern standards, but bins, drinks cabinets and even door stops made from Elephant and rhino feet are unfortunate signs of the very different status given to these magnificent creatures during the 19th and early 20th century.
Rowland Ward's Distinctive Cases
Rowland Ward Ltd. produced distinctive cases that were relatively minimalist by the standards of the time. Ward's cases were generally all glass with simple green or brown tape holding the sides together, or sometimes a distinctive bamboo frame. Frames produced by other taxidermists often had a solid back that was painted to show the subject's typical ecosystem. While the ecosystem depictions were useful scientifically and often beautifully hand painted, the minimalist all glass cases, and bamboo frames are particularly elegant. Also in their favour, they are in keeping with contemporary styles, meaning they are particularly appealing to modern collectors.
Rowland Ward Ltd. did produce some box cases, often larger scenes and dioramas that would be unstable if produced only in glass. While the all glass and bamboo cases are easy to spot and were rarely copied by other artists, other Rowland Ward cases can still be distinguished as they are usually signed in some way; often a small ivorine disc within the display, a wax label on the glass and/or a paper label pasted to the bottom of the base.
Rowland Ward: Extinct Birds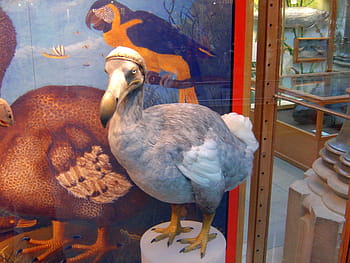 Ward's was also an expert in replicas of extinct birds such as Moa, Great Auks and the Dodo. Replica Dodos created by Rowland Ward are based off 17th century paintings and plaster cast models from of surviving feet and head specimens. The stuffed body is covered with chicken feathers with an ostrich feather tail. The models were very popular with museums, so probably what we consider a dodo is largely the creation of taxidermists.
Taxidermy in 2020
The breakup of the empire, their rise of TV, environmental awareness and better conditions in zoos all contributed to taxidermy's precipitous decline in popularity in the 1970s-90s. In the 21st century there has been a tentative rebound of taxidermy collectors fuelled by sustainable skins (such as farmed zebras) and an increased understanding of the difference between the historic big-game taxidermy and that which hasn't or doesn't endanger species.
The elegant, all-glass glass cases produced by Rowland Ward Ltd are pleasingly modern despite being a century old and are appealing for collectors and interior decorators. Bamboo framed fire screens displaying marvellously coloured birds are also popular. In general well-presented fire screens in good condition are sought after but are unfortunately rare as they were not particularly hardy.
Plain cases produced by the North-East School are also in vogue for their simplicity. Plainly painted box cases show off the subject (often brightly coloured birds) to full effect and allow these cases to sit seamlessly in a modern setting.
Butterflies and insects, while not strictly taxidermy, are also attractive to modern buyers.
Anthropomorphic taxidermy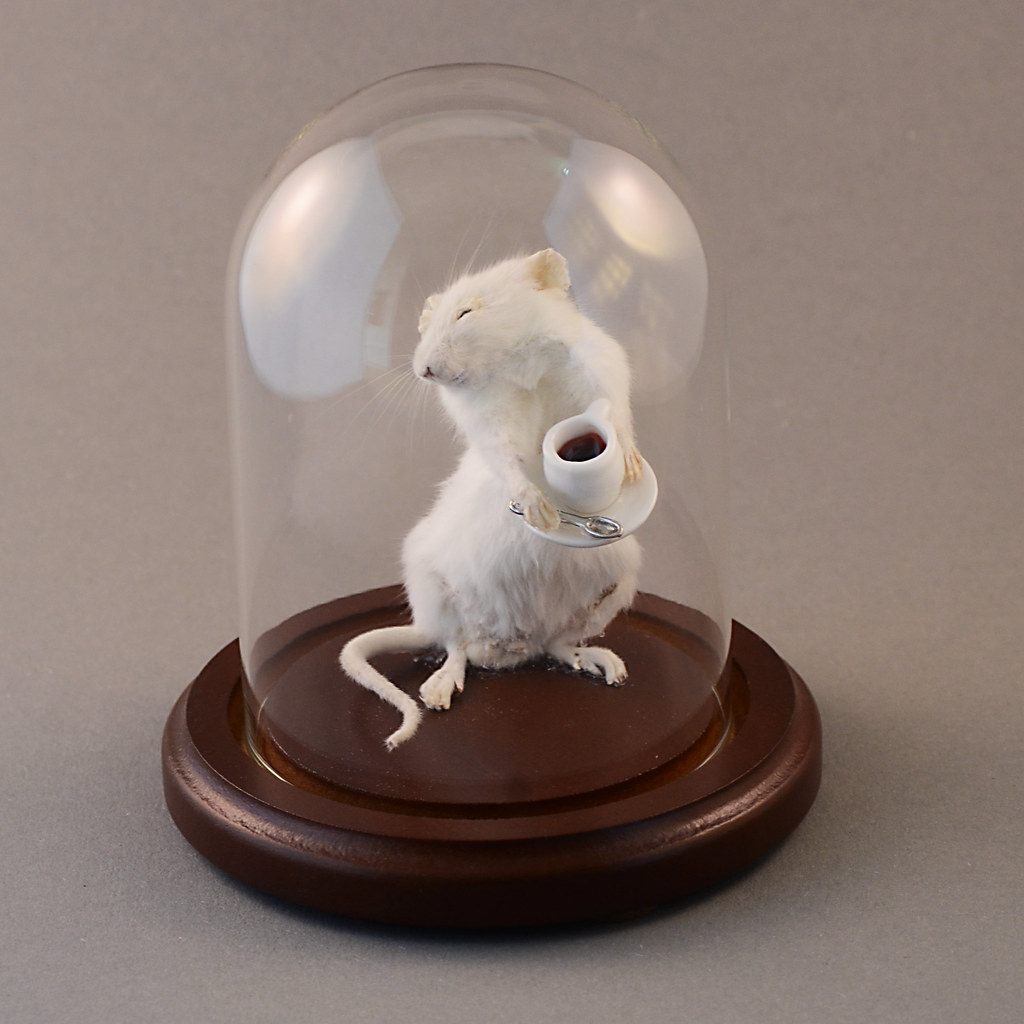 6 things to look for when collecting taxidermy
1. The Maker
Different makers command different prices. Well known taxidermy studios such as Rowland Ward, Van Ingen and Van Ingen, Peter Spicer, Hermann Ploucquet, Walter Potter, Edward Hart, as well as pieces from the 'North-East School' and other renowned makers – largely of the early 20th century – are the ones from which the most sought after pieces are found.
2. The Condition
The condition of a piece will greatly impact its value. Pieces in perfect condition are more sought after although taxidermy from a good maker may warrant some restoration by a buyer. Pieces in need of serious repair achieve considerably less. Where moth damage is present then the piece should be avoided as it may risk damaging an existing collection – moths are a serious threat to taxidermy.
3. Rarity
Unusual subjects, rare (but legal) species and brightly coloured specimens command a premium. The nature of bird pigmentation means that if they are kept out of direct sunlight then they retain their bright colours, which are very appealing to modern collectors.
4. Provenance
Items from well-know collections or museums carry with them a premium where provenance can be provided. Similarly, pieces with an interesting history, such as how they came to be preserved, can intrigue collectors and drive up prices.
5. The Case
Cased pieces are more valuable than uncased pieces. Largely this is simply because cased pieces are generally in better condition than their uncased equivalent. Cases with modern appeal such as those by Rowland Ward and the North-East School are particularly sought-after because of their compatibility in modern interior decorating.
That being said, some uncased pieces by specific makers are highly sought-after by modern collectors. Uncased fox and badger masks by Peter Spicer are currently in vogue, and head mounts by Van Ingen and Van Ingen are also uncased yet command a premium.
6. Age
There was a lowering of quality just after both world wars, presumably as studios had to retrain artists, as such pieces from the periods following the wars are less sought after than those prior to each war. Older pieces from the 19th century and up to the First World War are sought-after and will often command a premium.
If you have a piece of taxidermy that you would like valued then please contact Mark Littler Ltd. They have a wide pool of experts on different taxidermy art and would be happy to offer a complimentary valuation or sale consultation.
Receive a free valuation on your taxidermy