CHINESE EXPORT SILVER: HISTORY & VALUATIONS
Have you ever wondered what your Chinese Export Silver is worth?
Find out more about the history of Chinese Export silver and get in touch using the form below for a free valuation.
How we can help you sell your Chinese Export Silver?
Pieces of Chinese Export Silver are highly collectable. If you have a piece of Chinese Export Silver and would like to find out more about your item then read our guide to the history of Chinese Export Silver at the end of this page. You will also find a guide for the 6 things to look for on your Chinese Export silver including a guide to marks used.
Please use the enquiry form on this page to send us details and pictures of your silver for a free valuation and information on selling your item.
Selling your Chinese Export Silver?
More than ever condition is key and collectors discriminate against even the smallest imperfection. Mark Littler can help you sell your item by finding the right buyer or auction house for your piece.
How do you sell your antique silver?
Are you looking to sell your antique but don't know where to start?  At Mark Littler LTD we make the selling process as simple as possible by handling all of the logistics, paperwork and fully insured shipping.
We can help you sell your antique silver in two ways:
Through a brokered private sale
Through specialist online auctions
Our aim is to achieve the best possible price for your antique silver; after all, you can only sell once.  By giving you all of your options you can be sure you are making the right decision.
What is Chinese export silver?
Chinese export silver was produced from the late 18th century to the early 20th century and traded from Canton. Early Chinese Export Silver was made in the European style, but through the 19th century a unique elaborate style developed, featuring dragons and landscapes made to appeal to tourists. Chinese Export Silver was made from melted Spanish trade dollars (the only currency allowed by Chinese merchants from foreign traders) so often tests as 90% silver.
What to look for in your Chinese Export Silverware
Decoration style
The main era for Chinese export silver was circa 1800-1900. The earliest pieces produced were made by Chinese silversmiths in the European style. These pieces will be plain, maybe with engraved decoration, with the Chinese maker's mark often being the only clue to its original origin.
Later in the century the style of Chinese export silver became much decorative, with every surface except the base embellished! These later, highly decorated items are the most sought after in the current market.
The most common decorative themes include dragons, landscapes with or without people, and filigree work.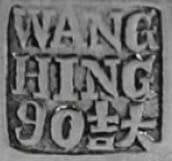 Chinese Export Marks
Your piece of silver is likely to be marked on the base with either: a Chinese character mark, English letters or pseudo hallmarks. Not all pieces are marked because the silver used was from previously alloyed Spanish dollars, there were no assay offices or other convention marks as there is with British silver.
Many of the maker's names such as Wing Nam, Wang Hing, Powying etc, are made up Western sounding names rather than the actual name of the silversmith. The best reference work for Chinese Export Marks is by H A Corsby Forbes and is available for around £200 on AbeBooks
We can identify the maker of your item if you are able to send over clear images of the marks.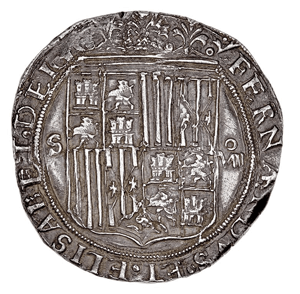 Age
Chinese Export silver is made from Spanish 8 Reales coin, also known as a trade dollar (or pieces of eight). Unlike antique English silver, with Chinese Export Silver older is not necessarily better.
The zenith of decoration on Chinese export silver was during the mid to late 19th century. Items from this period are often the most sought after as the silversmiths were reaching technical achievements seldom seen in English silver of the time. By contrast Chinese export silver from earlier in the century was a relatively plain copy of European styles and is much less commercial.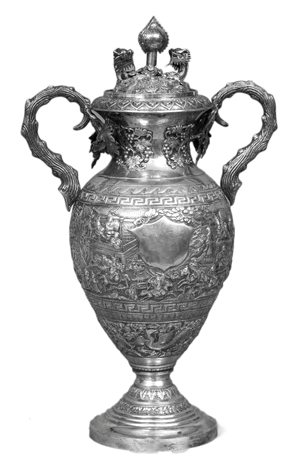 Forms
Chinese export silver comes in almost every form imaginable. The most common forms are mugs, tea services and card cases.
Mugs are often decorated with a continuous landscape and are often around 10-20cm high.
Tea services may number from three to six items, those which are decorated with dragons being the most commercial.
Card cases were made in very large numbers and are often covered with continuous landscapes.
The most commercial items however are the larger more decorative items such as vases (very desirable), epergnes, bowls and cup and saucers (very rare).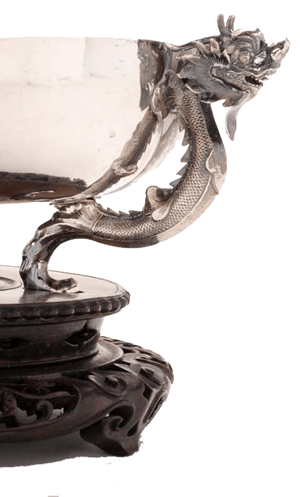 Dragons
Dragons are extremely important animals in Chinese culture and represented the emperor.
As the main buyers for Chinese export silver are now based in mainland China, it is their tastes that dictate value. The dragon is by far the most commercial decorative element and if your piece of silver is decorated with a dragon, or dragons, it is worth more than had it been decorated with a landscape.
Tea services decorated with dragons in high relief (rather than being engraved) are very sought-after and command a premium.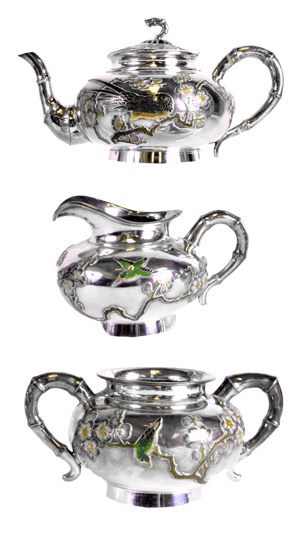 Provenance
Owing to the British rule of Hong Kong from 1841-1997 large quantities of Chinese Export Silver was exported back to the UK from diplomats and dignitaries.
Chinese Export Silver was often used as testimonial plate: silver given in recognition of services, time spent with a company or as an award.
Some items are engraved with inscriptions relating to who the item was presented to, what their position was and quite often the date of the presentation. Unlike with English silver, presentation inscriptions do not affect value.
How We Can Help You Sell Your Chinese Silver
Private Sale
Our brokerage service is a simple, stress-free way to sell silver. We will broker the sale between you and one of our buyers. For this service, we charge a 10% commission (plus VAT – 12% total) of the final sale price of the item. This avenue is fast and simple. We will take care of everything for you.
Auction
At Mark Littler Ltd we can also help you to sell silver via auction. Given the high cost of selling at auction getting the placement of your items right is critical.  Having run one of the most successful silver sales in the country, Mark Littler has the experience and industry contacts to know where your silver is going to sell best.  
Sell Silver: Expert Valuations
For a free, no-obligation valuation of your silver simply use the form below.  In order to provide you with an accurate valuation please provide as much of the below information as you can. 

Send us images of your silver on Whats App and we will get back with a valuation.  Click the button above or send the images to 07599615538

If you want to email over your images please send them to [email protected] or click the button above.

Would you rather speak in person?  Call the office on 01260 218718 weekdays 9am to 5pm and we will be happy to help.
Silver Valuation Contact Form
Selling your Chinese Export Silver with Mark Littler Ltd.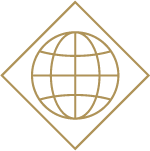 We contact our international network of customers for the best offers.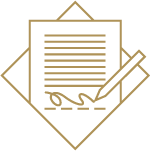 If you decide to proceed with an offer we issue you with a contract.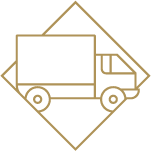 Send us your silver. We have a fully insured courier service available.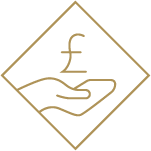 We complete the sale with the buyer and send your funds via BACS.
Postage Service
We make getting your silver to us simple.
We have a fully insured postage service.  We send you specialist packing materials and instructions together with a pre-paid returns label so that you can ship your silver back to us quickly and safely.
For large collections and very high-value items we also have a hand-courier service available. 
Auction or Private Sale?
If you are deciding on how to sell your Chinese Export Silver we can have a no obligation chat on the best options for you. We can either make a personal introduction to the best saleroom based on your location and item free of charge. Or we can look into collecting you some no obligation offers for a private sale, which could save you considerably in commission.
In a nutshell here are the main pros and cons of each option:
Auctions can provide an increased market exposure (when you choose the right saleroom) but their gross fees can reach as much as 50%, and the payout times can be drawn out.
Private sales leave you in control of the price, and can be completed quickly but there is no chance of 'buyers fever' driving up prices.
Mark Littler Ltd. are one of the only independent advisers in the antique industry. We offer trusted, independent advice to help you sell your silver for the highest possible price.
A History of Chinese export silver 
Chinese export silver, originally bought by merchants trading with China via the port of Canton, is a rapidly expanding market with some items selling in excess of £50,000.  Although the Chinese had been making and exporting items made from silver from the early 18th century, it was not until 1965 that the first academic article was published on the subject ("China Trade in Silver," John Devereux, Connoisseur, Nov 1965 p198). 
Twenty years ago it was not common for Chinese buyers to purchase export wares, these were after all items for European consumption and were often classed as secondary wares.  Fuelled by the increased number of fakes and the limited supply of Imperial wares, collectors are now seriously contesting export wares, of which Chinese export silver is one of the most sought after.
According to our research, the highest price paid for an item of export silver was a silver gilt teapot sold by Sotheby's in 2008.  This hexagonal teapot was made during the reign of the emperor Kangxi in the early 18th century.  It sold for an astronomical £75,500 including commission.
This is the exception to the rule, but many items of Chinese export silver often sells between £1,000 and £5,000.  It is often forgotten that Chinese export silver was much cheaper than silver made in Europe, so it was brought back in huge numbers to the UK, American and Europe.
As with any market it is best to 'buy low, sell high'.  The market for Chinese export silver has never been stronger.  Nor has the Chinese economy ever looked more fragile.  As such we would advise anyone with Chinese export silver to consign it for sale now.
We can advise the value of your Chinese export silver and help you find the best place to sell it, taking care of all the administration and logistics too.  So if you have an item of Chinese export silver and you would like a valuation please contact us for more information.