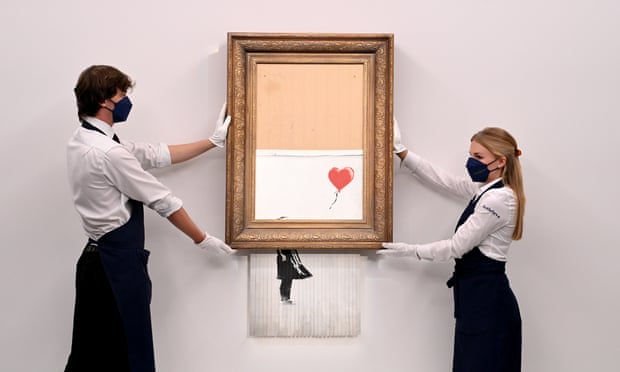 Banksy is perhaps one of the best-known anonymous artists in the world. Active from the 1990s until the present day, Banksy is a street artist and political activist. Banksy has retained anonymity throughout their career and their identity remains the subject of speculation to this day. 
In 2018 at Sotheby's London, Girl with Balloon was on sale and was bought by a European woman for £1.04 million. Moments after the hammer fell the painting slipped down in its frame and through a hidden shredder, leaving only the heart-shaped red balloon intact. The saleroom was filled with gasps as Sotheby's staff hurried to remove the shredded painting from the room. This was a deliberate show put together by Bansky, and perhaps one of their boldest moves yet. Girl with Balloon was originally stencilled on a wall in East London but had been reproduced many times since then. 
On Thursday, Alex Branczik, chairman of modern and contemporary art at Sotheby's Asia, had this to say: "It is almost three years to the day since one of the most ingenious moments of performance art this century made auction history. Banksy is no stranger to making headlines and this latest chapter in his story has captured imaginations across the world – we can only begin to guess what might come next."
Since the infamous shredding of the original painting, the piece has been on permanent loan to the Staatsgalerie Stuttgart Museum in Germany. 
Love is in the Bin smashed its pre-sale estimates of £4 million £6 million, making the painting worth more than £17 million more than it was bought for when it was still intact.