Continuing with Ardbeg week, we are proud to offer this Ardbeg Provenance 1974 on our online shop. 
This rare and collectible bottle is a limited edition cask strength bottling of Ardbeg. The whisky was distilled in 1974, and bottled in 1997 to celebrate the rebirth of Ardbeg. Ardbeg had recently been purchased by Glenmorangie PLC, and the firm's aim was "recommissioning it and restoring it to its former glory".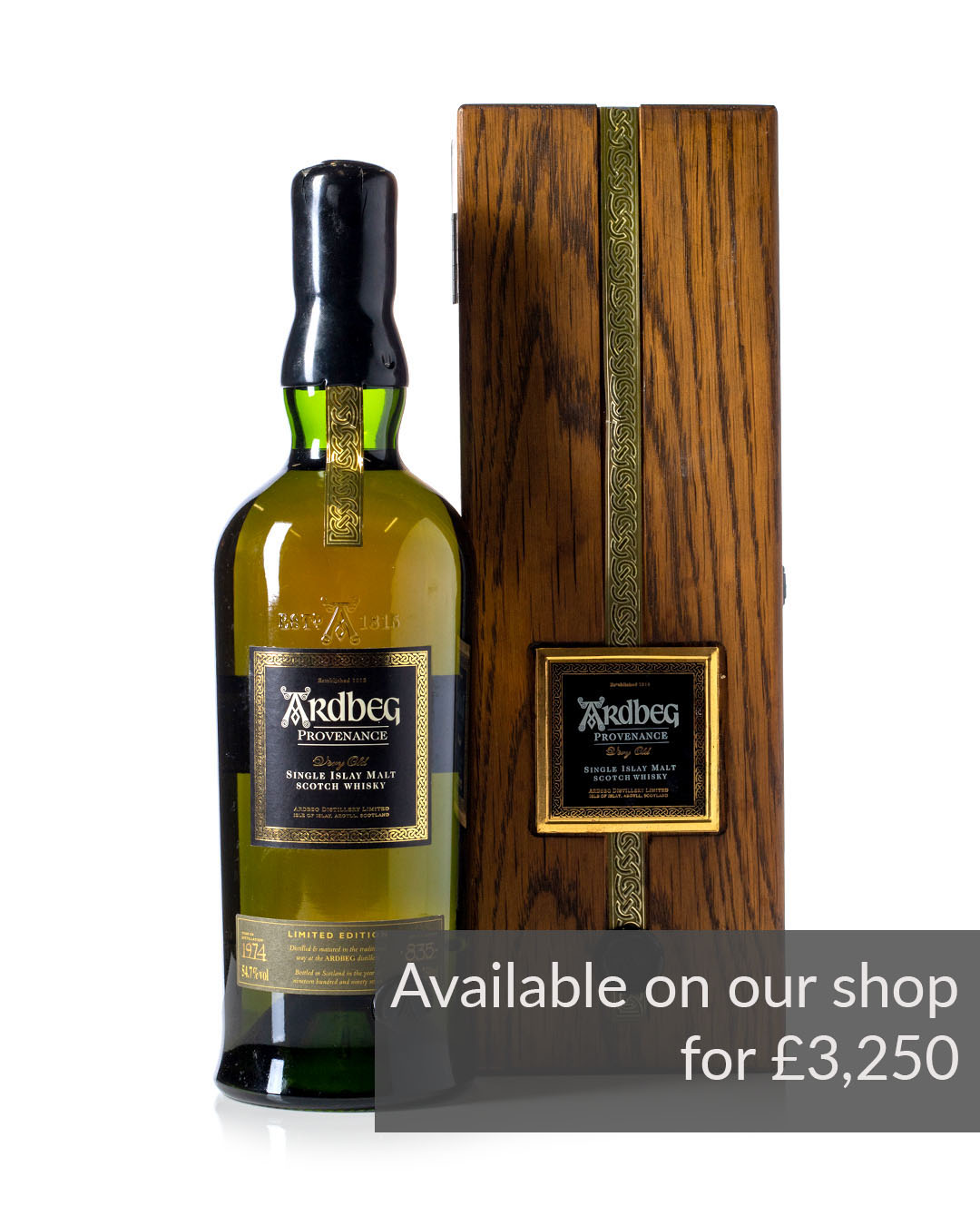 This particular bottle is bottle number 835, and comes with its original wooden box and tartan insert, as well as a hand-numbered certificate of authenticity. It was bottled at 54.7% for export to the USA, as is shown by the 750ml volume, which has not been the standard volume in the UK since the early 1990s. 
History of Glenmorangie PLC
The history of Glenmorangie Company dates back to 1918, when Edinburgh-based wine and spirits merchant Macdonald & Muir bought a 40% stake in Glenmorangie distillery. In the late 1930s the firm, which was founded by Roderick Macdonald and Alexander Muir in 1893, acquired full control of Glenmorangie. 
In 1996, Macdonald & Muir changed its name to Glenmorangie and moved its primary premises to Commercial Street in Leith, and then moved its bottling facility to Broxburn, West Lothian. In 1997, The Glenmorangie Company acquired Ardbeg distillery for £7 million. Ardbeg was somewhat dilapidated at this point in time, and was in desperate need of refurbishment. The company renovated the distillery, and released limited edition Provenance bottlings, like the one listed on our store, to celebrate the rebirth of Ardbeg. 
Today, the company is owned by LMVH. The company is now based in central Edinburgh. Ardbeg and Glenmorangie remain in its portfolio.
If you would like to purchase a celebratory piece of Ardbeg history, you can buy this bottle on our store for £3,250.