If you are looking to buy a cask of whisky in 2022 there are 6 things to think about before you buy.
Casks of whisky continue to show appeal as long term investments but with more and more options coming to the market you need to be sure you are keeping abreast of the potential pitfalls.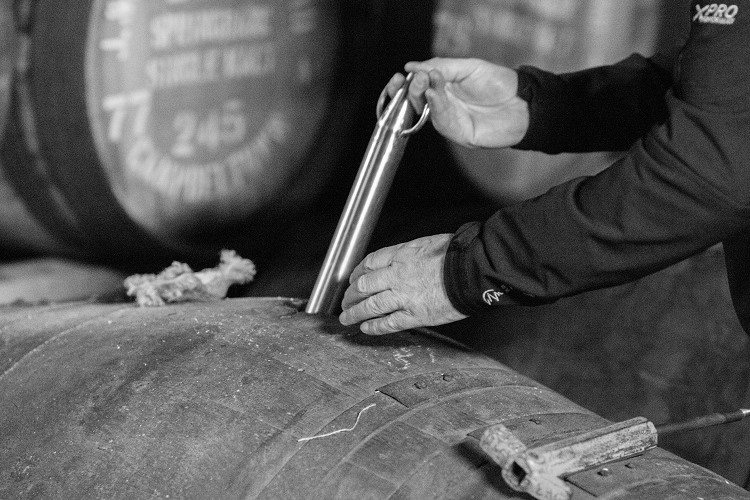 One: Get a delivery order
Long time readers of our blog will know that this is the foundation to all our advice on cask investment and that has not changed in 2022; a delivery order is still the most important thing to ensure you have when buying a cask of whisky.
Thankfully we are not alone in our convictions of this, so you do not have to just take our word for it, read what everyone else has to say on it here. Or, the short version is that without a delivery order you simply do not own the cask and hopefully that does not sound like a sound investment foundation to you – so avoid it.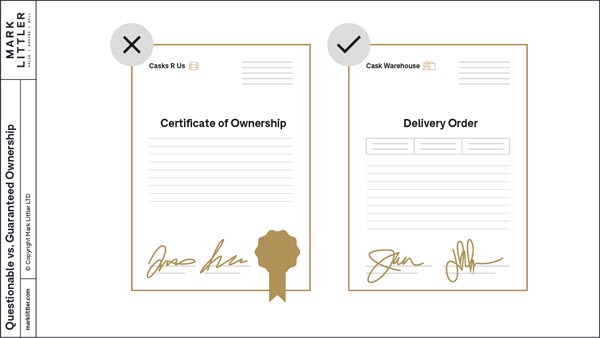 Two: You do not need a duty representative
As we are one of the few cask brokers able to offer delivery orders, some cask sellers are instead offering to act as your duty representative. Unsure if you need a duty representative? just take our simple quiz:
Are you a business based outside the UK?
Yes

No
If you answered yes to this question you do need a duty representative. If you answered no then you do not.
If fact, if you are a UK resident or have any kind of UK based business then the bit of legal paperwork governing the warehousing of duty suspended goods (see here, or check out the excerpt below) specifically says that someone cannot act as your duty representative. So if someone is saying that they can and you have answered no the above question, consider whether they are knowledgeable enough to buy a cask investment from.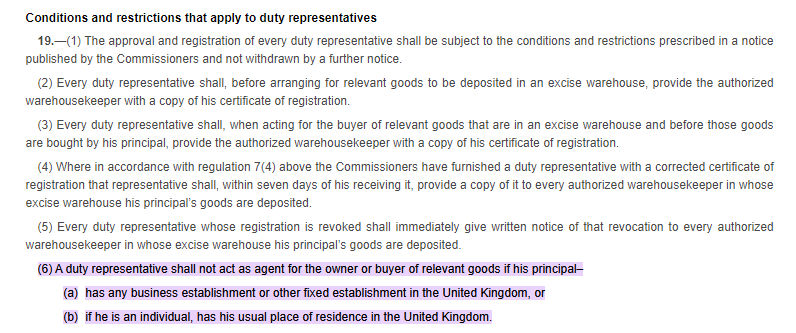 Three: Pay the right price
We get daily phone calls from potential cask investors asking if the price they are about to pay is correct. Most months we see casks of whisky sell at online auctions for well over what they are worth in real terms of final bottle price. With so much misleading information out there and no reliable database available of how much a cask of whisky is really worth it can be very difficult to know if you are being asked to pay a price that is fair.
If you are unsure about the price you are being asked to pay for a cask of whisky then there are still a couple of ways to check. Firstly head across to our online cask calculator and plug the details of your potential cask into there. If you are still unsure then you can also get in touch with us at the office and someone will be happy to chat to you in an independent capacity.
Four: Expect to wait
Cask investments take time and you should expect to wait until your cask is 18 years or older in order to make the most from your investment.
The only way to shorten the time frame of the investment is to buy a slightly older 'young' cask rather than new make. Unfortunately the choice to buy a young cask over a new make cask should not be made without making sure you are abiding by tip three, making sure you are paying a fair price.
Five: Check your names
A name is very important in any business, and whisky is no exception. Distilleries have spent a lot of time and money building a brand and expectation around their name, and if you want to make the most from a cask and that marketing you need to ensure you – or the future bottler of your cask – have the right to put the name on the bottle.
Some distilleries sell casks without full naming rights and it is very important to check your contract for this information as it dramatically impacts the eventual price of your whisky cask.
Names to look out for when checking for naming rights are: Stoaisha, Whitlaw, Kirkcowan and Orkney Malt among others. If you are unsure whether the cask you are looking at has the correct naming rights please feel free to get in touch and we will be happy to help
Six: Use cautions with NFTs
New in for our top tips of whisky investment in 2022 is something we expect to hear more and more about in 2022 and beyond: NFTs.
You can read in detail how NFTs, or non-fungible tokens, are being introduced into the world of whisky in our blog, but at the moment what you need to know is that NFTs are of limited use for buying a whisky cask.
Whisky is an industry that still relies on a physically signed paper copy to transfer ownership of a cask, so we expect it to be a while before NFTs are meaningful at the levels that matter in terms of ownership of a cask – the warehouse. Plus, we have our doubts about the legality of using NFTs to buy parts of a cask unless the seller is registered with the right financial body. As such, as of January 2022 we would advise you to steer clear of anyone linking NFTs with a whisky cask investment.
Those are our six quick steps to investing in a whisky cask in 2022. If you want more details about how to invest in casks then you might be interested in downloading our free cask investment guide. You can also get in touch with us at [email protected]